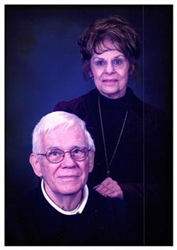 James "Jim" Lemuel Bippus of Three Rivers, age 85, passed away in his home surrounded by family on Wednesday, December 20, 2017. Jim had recently been admitted to Borgess Hospital due to complications related to kidney dialysis. When treatments became unsuccessful he determined he would leave this world on his own terms and in his own way. He was an ordinary man who lived an extraordinary life.
Jim was born in Bucyrus, Ohio on September 14, 1932, the youngest child of the late James and Blanch Bippus. When he was seven, his father died and Jim and his five sisters were then raised alone by Blanch, a resilient and strong woman who devoted her life to serving in the Salvation Army.
Jim enlisted into the United States Army. During his service, he earned The National Service Defense Medal. He was honorably discharged from the Army in September of 1955.
Jim attended Ohio State University taking advantage of the G.I. Bill and earned his Bachelor's degree in Industrial Engineering. During a six month internship at Essex Wire in Fort Wayne, Jim met and fell in love with Vera H. Mohre; they married in 1958. Jim became employed full time at Essex and took a transfer to Three Rivers, with Vera, and his now six children in tow.
The Essex position didn't work out the way Jim had imagined, so he quit. After a few months of soul searching he saw the for rent sign in the closed Standard Service Station on West Michigan Avenue. So Jim took the test to become a certified mechanic and passed it easily with no formal training. He and Vera opened the station and people started coming.
In 1987 he purchased what would become the Bippus Shell Station on the corner of US-131 and West Michigan Avenue. Many in the community came to know him for his trustworthy service in auto repair. But more than that, people admired the Bippus family: Vera at the cash register and their children pumping gas, helping to fix cars, or doing inventory on New Year's Day. In 1997 the station was renovated and instead of offering car repair, now had a restaurant called Vera's, another sign of Jim's great love for his wife. Over the years Jim's business became a cornerstone of the community: a place people met for coffee or lunch and were greeted with warmth and hospitality.
In 2012 Jim and Vera were voted Three River's Citizens of the Year by the Lion's Club for their many contributions to the town. Jim made doughnuts on Sunday mornings for the Immaculate Conception Church, read to children at Andrews School, mentored a young student, participated in the County Infrastructure Committee, collected turtles for the Lion's Club Turtle Derby, and taught auto shop to adults. With his snow plow he kept the Immaculate Conception Church and the Lion's Club parking lot plowed for free, and also routinely plowed out driveways for others.
Jim was a great lover of classical music. He enjoyed reading books by Thomas Clancy, John Grisham, and James Patterson. He also was a great fan of The Wall Street Journal. Jim loved to play cards and was part of a monthly poker group that met for over 30 years. He and Vera also played in a weekly bridge group for about the same number of years. Equally remarkable, Jim and Vera hosted weekly Sunday dinners for family members and anyone else who wanted to stop by. New people in town were warmly welcomed to the table.
Jim always loved working with his hands. From tweaking a car engine to trouble shooting a car wash, Jim was up for the task. After retiring, he bought a small building in town and turned it into a wood working shop. Jim made beautiful pieces of furniture for family members and then began tinkering with building tabletop service vehicles including bull dozers, cranes, and plows.
Jim leaves his devoted wife Vera and five living children, John (Sharon) Bippus, Annette (Kurt) Curtis, Karen (Brian) Burkeen, Joe (Cheryl) Bippus, and Maria (Steve) Scott; grandchildren, James Bippus, Gabriel Fuller, Autumn Bippus, April Bippus, and Evan Bippus; great-grandchildren: Logan and Maverick Bippus.
Jim was preceded in death by daughter, Laura Lane.
The family will receive friends on Tuesday, December 26, 2017 from 5:00 – 7:00 p.m. at Hohner Funeral Home.
Funeral Services will be held at 11:00a.m. on Wednesday, December 27, 2017 at Hohner Funeral Home with Rev. Dennis Smith officiating.
Memorial donations may be directed to Three Rivers Lions Club. Envelopes available at Hohner Funeral Home in care of arrangements. Online condolences may be left at ww.hohnerfh.com. The family would also like to thank Heartland Hospice.
Interment will be held at Moorepark Cemetery.