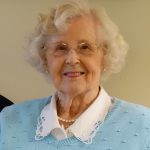 Joanne Morton Sisson, age 92, of Kalamazoo, passed away on Wednesday, Nov. 29, 2017 at Bronson Methodist Hospital. Joanne was born on Nov. 15, 1925 in Kalamazoo, the daughter of the late Owen P. and Wilma (Bosker) Morton. She spent her childhood, high school, and college years in Kalamazoo. She attended Western Michigan University where she studied History of Art, graduating in 1947. Joanne worked as an executive assistant at Time-Life Incorporated before her marriage. Joanne first met Bill Sisson, her husband of 63 years, when they were in high school. After Bill returned from World War II, they became engaged, and married on Oct. 1, 1949 in Kalamazoo. They moved to Three Rivers, where together they raised their family and lived until Bill passed away in 2012.
Joanne was a talented artist and loved to paint watercolors of landscapes, beaches, dunes, and flowers, especially scenes from northern Michigan where Joanne spent summers as a child, and later, vacations with her own family. Joanne also loved flowers and enjoyed gardening at her home in Three Rivers, the family's cottage at Gun Lake, and recently at her home at The Fountains at Bronson Place. Joanne was a member of the First Presbyterian Church of Three Rivers for over 65 years.
Joanne was preceded in death by her sister, Ruth Morton Bowers; and by her husband of 63 years, William Fulcher Sisson. She is survived by two children, William Fulcher (Mary) Sisson II of Houston, TX and Margaret A. "Peggy" (Eric) Roth of Libertyville, IL; granddaughters, Lauren Claire Roth, Megan Roth (Joey) Owens; grandsons, Jeffrey (Melanie) Roth and Corey Roth; and three nieces, Nancy (Douglas) Schrank, Sarah (D.R.) Golding, and Katie Krikorian.
Visitation will be Sunday, Dec. 3, 2017 from 2 to 4 p.m. at the Eickhoff Farrand Halverson Chapel in Three Rivers. Graveside services will be at 1 p.m. Monday, Dec. 4, 2017 at Riverside Cemetery with Rev. Brenda Deily, Pastor of the First Presbyterian Church officiating. Memorials may be directed to either the First Presbyterian Church, or to the Carnegie Center for the Arts in Three Rivers. Condolences may be expressed to the family online at www.efhchapel.com