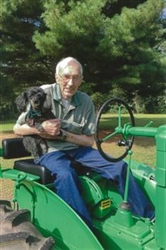 Joseph "Joe" R. Kuratko passed away on Wednesday, December 27th, 2017 surrounded by his family at Heartland Health Care Center after lengthy health issues. Joe was born August 5th, 1928 in Chicago, to Joseph and Anna (Blaha) Kuratko. They moved to Three Rivers when he was 4 years old. He graduated from Three Rivers High School in 1947.
He was married to Marena Bloom Kuratko. They divorced. June 26, 1999 he married Peggy Woodall Bell. They spent 5 winters in Mission, Texas.
Joe was a Tool and Die Maker for 61 years at many companies and job shops. He retired at the age of 80 from American Metal Fab – his favorite workplace.
He belonged to the Three Rivers Eagles #2303 and American Legion Post #170. Joe and Peggy liked to go dancing. He liked doing building projects, camping, and fishing.
He leaves to cherish his memory, wife Peggy Bell Kuratko, daughters, Mindy (Greg) Shutes, of Three Rivers, Cari (Mike) Marzolf, of Holland, Stepchildren, Christine (Brent) Russell, Gail (Rog) Smoker, both of Constantine, Lois (Billy) Burandt of Gadsden, AL, Dusty (Gina) Bell of Goshen, IN. Grandchildren, Anna, Olivia, and Russell Shutes; Elsa, Ian, and Owen Marzolf; 19 step-grandchildren, 43 step great grandchildren and 1 step great great grandson. Many nieces and nephews including special niece Mary (Frank) Sipes and several cousins, special friend, Bill Zuzonic and many other good friends. He also leaves behind his special furry friend of all time, Molly Jo.
Preceding him in death are his parents, sister, and brother in-law, Mildred and Frank Wallack.
Services will be held on Saturday, December 30th, 2017 with visitation starting at 4:00 p.m. and funeral services starting at 5:00 p.m. at Hohner Funeral Home with Pastor Lenny Krebs officiating. A private burial will take place at Poe Cemetery on Tuesday, January 2nd, 2018.
Memorial donations be made out to the American Cancer Society or The Animal Rescue Fund. Envelopes available at the funeral home.