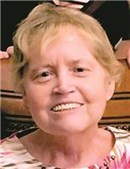 Judy Anne Reinoehl, age 70, passed away Monday, Dec. 18, with her family by her side, following a brief illness.
Judy was born June 14, 1947, in Goshen, to Donald and Helen Higgins. She was a 1965 graduate of White Pigeon High School and a 1967 graduate of Western Michigan University. Judy worked as a secretary, wife, mother, grandmother and friend.
She is survived by her husband of 48 years, Melvin; sons Brian Reinoehl and Mark (Shannon) Reinoehl; granddaughters Alexis, Haley and Kayla Reinoehl, all of Bradenton; a sister-in-law, Betty Yoder of Three Rivers; a brother, Jerry Higgins of Orlando; Uncle Dave Higgins of Shipshewana; and numerous cousins and nieces.
Please make donations in Judy's name to Living Lord Lutheran Church, 11107 Palm Brush Trail, Lakewood Ranch, FL 34202. Memorial services will take place at a later date. Groover Funeral Home in Ellenton, Fla., is in care of arrangements.