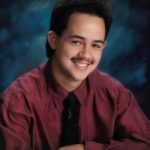 Mark E. Riley, 42, of Columbia, Tennessee, died unexpectedly on Tuesday, Nov. 21, 2017.
Mark was born Jan. 11, 1975, in Kalamazoo and was a graduate of Centreville High School. He was a Master Mason with the Three Rivers' Mount Herman Lodge no. 24 since 1997. He worked as a welder for Columbia Gate and recently started at the General Motor's Spring Hill plant in Tennessee.
He is survived by his parents, James and Sirinong Riley of Columbia, Tenn. He also leaves his brother and sister-in-law Michael and Sasiwimon Riley and his niece Anchallia Riley along with several aunts, uncles and cousins. His grandparents, Donald and Merie Riley of Michigan, Saner and Pranom Paripurana of Thailand, precede Mark in death.
His family held a private home funeral on Nov. 25. Releasing of cremated remains will be on the St. Joseph River near his childhood home. Friends are welcome to contact his brother for details.
Arrangements by Heritage Funeral Home, Columbia, Tennessee.