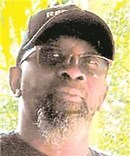 Micheal Kelly, age 56, of Sturgis, passed away Tuesday morning, Dec. 20, 2017, at his home.
He was born Dec. 23, 1960, in Three Rivers.
Micheal graduated from Constantine High School with the class of 1979. He joined the U.S. Navy in 1980 and served until 1987.
He was a lifelong St. Joseph County resident, with a few stops in Washington, California and South Carolina.
He worked in factories most of his life and turned to retail in 2010. He loved working at Kroger, where he enjoyed the customers and considered his Kroger co-workers as family. Micheal also enjoyed traveling, family and his friends.
Surviving are his wife, Patty Kelly; a daughter, Denise Williams (Tawron); sons Donte Kelly, Morgan Keefer, David Keefer, Kelvin Singleton, Jermaine Moore, Herman Moore and Shaun Moore; eight grandchildren, Danielle, Denzell, Danae, Tamarion, Kyra, Tavarion, Trondae and AhMae; a sister, Pauline (Kirby) Martin; his mother-in-law, Leslie Ortiz; sisters-in-law Nova Aman, Lois Kelly and Heather (Thomas) Walkley; a brother-in-law, Timothy Ortiz; and many nieces, nephews and cousins.
He was preceded in death by his mother, Della Kelly; and brothers Ernest Kelly and Edward Kelly.
A celebration of Mike's life will be held at 11 a.m. Saturday, Jan. 6, 2018, at Christian Fellowship Center, 201 North St., Sturgis.
The family would like to thank Kroger, Sturgis Eagles and the community for all the support given during this journey.
His obituary is also at www.hackmanfamilyfuneralhome.com, where personal messages of support may be left for the family.