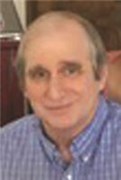 Randy W Strawser, age 68, of White Pigeon, passed away Tuesday afternoon, Dec. 26, 2017, at his home.
He was born on Sept. 28, 1949, at Sturgis Memorial Hospital. He has been a life-long resident of White Pigeon, graduating from White Pigeon Community Schools with the class of 1969. He attended Glenn Oaks Community College and was employed at Weyerhaeuser Paper Mill and Morris Excavating Company.
The son of Richard and Mary Strawser, he is survived by a son, Spence (Charissa) Groves of Vicksburg; sisters, Cindy Strawser of White Pigeon and Tandy Stutsman of Chicago; three grandsons; a niece; and five nephews.
Randy played basketball at Glenn Oaks Community College where he was on the first men's basketball team. He was one of the first group of inductees to be elected into the White Pigeon Hall of Fame in 2012. He was a collector of coins and sports cards. He loved the Lions, Pistons, and Red Wings and enjoyed spending time with friends and family talking about sports and playing cards.
In keeping with Randy's wishes, cremation has taken place with a memorial service to be planned for a later date. Arrangements are being handled by Farrand Funeral Home in White Pigeon.
Donations may be made in Randy's name to the White Pigeon Athletic Department. Envelopes are available at funeral home.