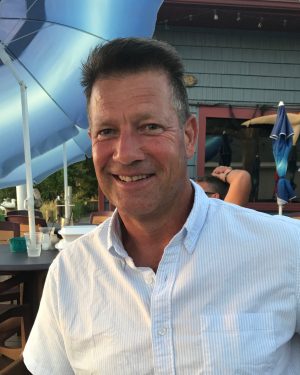 Roger "Rocky" Matheson Rathburn, age 55, passed away tragically on Tuesday, December 26, 2017.  He was born to Roger and Sally Rathburn on August 29, 1962 in Grand Rapids. Roger graduated from Hackett High School in 1981 where he met his high school sweetheart and lifelong love, Susan Reisterer. He graduated from Western Michigan University where he earned a Bachelors and Masters degree in Education. Roger and Susan were married July 20, 1985 in Kalamazoo. They had three children together, Amanda (Trevor McEnroe), Andrew, and Emily (Blake Colbert) who were his proudest achievements. Roger started his teaching career in South Bend, and moved to an administrative position in Edwardsburg. Eventually they made their home in Three Rivers, where Roger started as a High School Assistant Principal and progressed to Superintendent of Three Rivers Schools for thirteen years. After retiring from Three Rivers Schools, Roger wasn't able to remain idle long. His love for impacting children's lives and education lead him to become the part time Superintendent of Mendon Schools. Roger was a visionary leader, a generous administrator, and "champion of kids." Countless will forever cherish his memory. He used his kindness, enthusiasm, and unparalleled commitment to transform not only the school districts he worked in but also those around him. Roger, or as close friends and family know him as Rocky, will remain in the hearts of his family and the community as a beloved, husband, father, son, brother, leader, and friend.
Funeral Services for Mr. Roger Rathburn will be held at 1:00 p.m. on Saturday, December 30, 2017 at the Riverside Church of Three Rivers, 207 E. Michigan Ave., Three Rivers, with Pastor Paul Booko officiating.
In lieu of flowers, donations may be made to the Roger "Rocky" Rathburn Memorial Scholarship Fund c/o Three Rivers Foundation. The link for online donations please go to www.threeriversfoundation.com. Envelopes will be available at the church.
To watch Rocky's service online please go to www.Livestream.com/riverside. Online condolences may be left at www.hohnerfh.com. Arrangements handled by Hohner Funeral Home of Three Rivers.