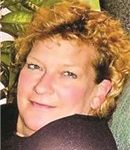 Romaine Elaine Berry-Nelson passed away Nov. 13, 2017, at her home, of natural causes.
Romaine was a daughter of Roger Leroy Berry and Jill Dian (Grossman) Berry.
She was born in Sturgis and was a lifelong resident. Romaine graduated from Centreville High School, as well as Glen Oaks Community College.
She was employed by Abbott Labs for more than 20 years. Nicknamed ""Ro"" by her friends, Romaine took great pride and love in entertaining friends and family and was an amazing hostess. She loved the role of ""Big Sis"" and was always ready to stand up for her ""little sisters"" if needed. Romaine was a very proud aunt of four beautiful nieces. She was known to both friends and family as having a giving heart and will be missed more than we can say.
Romaine was preceded in death by her father, Roger.
She is survived by her mother, Jill; brother Brian Mayer (wife Tami); sister Johnna Harlan (husband Gary); sister Rebecca Wasson (husband Jeff); nieces Anika and Teah Mayer and nieces Montana and Fallon Wasson; as well as many beloved aunts, uncles and cousins.
Cremation has taken place. A memorial service will be held at a later date in the spring, due to the holidays and out-of-state family members. An announcement will be made so all who would like to honor her may attend.
Please consider a donation to either a local homeless shelter or to a toy drive to honor her memory. Both causes were important to her, and we know she would appreciate the support of them.
Envelopes are available at Hackman Family Funeral Homes, 807 E. Chicago Road, Sturgis, which has been entrusted with arrangements.
Her obituary is also at www.hackmanfamilyfuneralhomes.com, where personal messages of support may be left for her family.