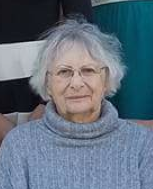 Elizabeth "Betty" Jean Roberts, age 82, of Three Rivers, passed away peacefully on Sunday, January 21, 2018 at her home surrounded by her loving family. She was born in Munger, MI. on July 6th, 1935 the daughter of the late Nicholas and Ethel (Orosz) Pless.
Betty has been a long time resident of Three Rivers. She enjoyed quilting and cross stitching and loved to read books and occasionally shop in Shipshewana. Betty's true love and joy was taking care of her family, especially her grandchildren which she adored.
Mrs. Roberts was preceded in death by her parents, her husband, Jack Roberts, and one grandson Nathanial Johnson.
She leaves to cherish her loving memory, three children, Jon (Cherie) Roberts, Kippy (Timothy) Waltz, both of Three Rivers, and Kristine Roberts, of Odessa, FL.; one brother, John Pless, of Three Rivers; seven beloved grandchildren, Mitchell Roberts, Daniel Waltz, Jordan and Peyton Roberts, Dacoda Jacobs, Kelly Magee and Meagan Fisher.
The family will receive friends from 5 to 7 p.m. on Wednesday, January 24, 2018 at the Hohner Funeral Home.
Funeral Services for Mrs. Betty Roberts will be held at 2:00 p.m. on Thursday, Jan. 25, 2018 at the Hohner Funeral Home with Rev. Karleen Kinker officiating.
Interment will be held in Lower Flatbush Cemetery. Memorials in memory of Betty may be donated to the Southwest Michigan Hospice or St. Joseph County C.O.A. Envelopes available at the funeral home. Online condolences may be left at www.hohnerfh.com.