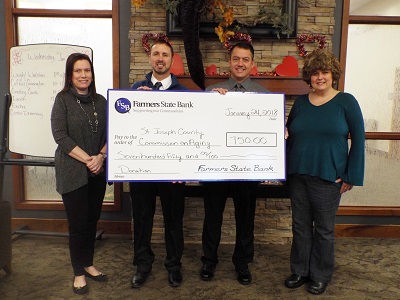 The St. Joseph County Commission on Aging recently received a $750 donation from Farmers State Bank in Sturgis.  The money was raised by the employees at the bank. The donation will go toward benefiting COA members and the activities and other programs in which they participate.
On Wednesday, January 24, representatives from the bank presented the check to the COA at the Sturgis Enrichment Center.
Pictured from left to right are: Nichole Marple, FSB Marketing Director, Joe Urbanski, FSB President/CEO, Tim Stoll, COA Executive Director, and Misti Gardner, FSB Banking Center Manager.
The COA is very appreciative of this donation and looks forward to ensuring it helps the seniors of St. Joseph County.