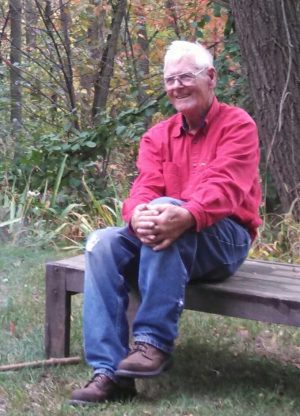 Elton Powell, age 92, of Three Rivers, passed away Sunday, January 7, 2018 at his home. Elton was born in Constantine on January 29, 1925, son of Delbert and Edna (Nusbaum) Powell.   He attended Maple Street Schools. Elton served in the U.S. Army. On September 1, 1956, he married Elizabeth "Betty" Kirkbride at Constantine Methodist Church.
Elton was most known for running his own horse farm. He worked for AEP-Michigan Power, retiring in 1988, and previously worked for Constantine Co-Op. He was well-known for his work with Clydesdale draft horses, showing them at the St. Joseph County Fair for many years. He enjoyed cowboy activities while living on Pine Ridge Indian reservation and participating in rodeos in Wall, SD. He was a member of the Constantine United Methodist Church.
Surviving are his wife Elizabeth Powell, Three Rivers, son Melton (Anne) Powell, Three Rivers, son Curtis (Beth) Powell, Plainwell, grandchildren Bradley (Mollie) Powell, Nathan Powell, and Mariah Powell, one great-grandchild on the way, and many nieces and nephews.
He was preceded in death by his parents and 9 brothers and sisters.
Relatives and friends will be received Wednesday from 6 to 8pm at Eley Funeral Home, Constantine. Religious services will be held on Thursday at 11am at Constantine United Methodist Church. Interment will be in Constantine Township Cemetery. Memorial contributions may be made to Constantine Methodist Church, Three Rivers Hospice, or Clydesdale Breeders of the USA. Online condolences may be left for the family at www.eleyfuneralhomes.com.