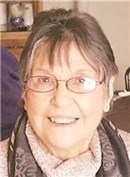 Glenice Maureen Bond, age 81, of Idaho, and a former longtime Sturgis resident and former active member of Sturgis Wesleyan Church, passed away peacefully on Tuesday, Jan. 2, 2018, at Schneidmiller Hospice House in Coeur d'Alene, Idaho, with her family by her side.
She is survived by her loving and dedicated husband, Roy; two sons, Jeff (Cindy) Bond of Sandpoint, Idaho, and Randall (Rhonda) Bond of St. Maries, Idaho; and two daughters, Lisa (Don) Hester of Hope, Idaho, and Lori Webb of Constantine.
Tragically, she was preceded in death by her second son, Barry Bond of Sandpoint, Idaho.
As much as she loved her children, she managed to love and cherish her grandchildren even more. Tiwi, Ria, Ali, Nick, Haley, Bronwyn, Amber, Ashley and Priscilla were the jewels in her crown. She would and did give everything she had to each and every one of them. With each great-grandchild, her heart somehow managed to grew even bigger. Glenice Bond truly leaves a legacy of love. She will be greatly missed by everyone who knew her.
Services were held in Idaho.
A complete obituary is available at www.hackmanfamilyfuneralhomes.com, where personal messages of support may be left for the family.