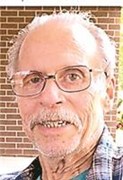 Harold Roy Dillen, age 70, of Sturgis, passed away early Wednesday morning, Jan. 10, 2018, at Heartland Health Care Center in Three Rivers.
He was born May 19, 1947, in Sturgis, a son of the late Gerald and Juanita (Prestidge) Dillen.
Harold was a longtime Sturgis resident and a graduate of Sturgis High School with the class of 1965.
He was very outgoing and always willing and ready to help his friends and neighbors. He loved garage sales, mowing lawns and collecting antique cars. He was a member of Neuman-Wenzel Post #73 American Legion, Fraternal Order of Eagles #1314 and Loyal Order of Moose #574.
Harold was proud to have served his country in the U.S. Coast Guard during the Vietnam War.
On Feb. 26, 1966, he married Thelma Saddison, which ended in divorce. On July 10, 1993, he married Sharilyn (Cookie) Binkley. She died Dec. 28, 2012.
Harold is survived by two sons, Lando (Tammy) Dillen of Edgerton, Mo., and Jerid Dillen of Sturgis; two stepdaughters, Elaine Morris and Jean (Charlie) Stahl of Sturgis; a sister, Joan (Dave) Gibson of Quincy; a half-brother, Greg (Lynelle) Thrasher of Sturgis; a brother-in-law, Jack Binkley; grandsons Levi Dillen and Dustin Kincaid-Jeude; granddaughters Brandi Murphy and Rachel Harris; great-grandsons Zac Opdycke, Austin Opdycke and Ricky Schaeffer II; and his Aunt Billie. He also leaves behind his two dogs, Little Bit and Nugget.
He was preceded in death by his wife, Cookie; his parents, Gerald and Ruth Dillen and Juanita and Phillip Thrasher; stepsons James Jackson and Jack Jackson; and a half-brother, Doug Thrasher.
In accordance with his wishes, cremation has taken place. A gathering of family and friends to honor Harold Dillen's life will be held 2-4 p.m. on his birthday, May 19, 2018, at his home on Prairie Lake. Full military honors will be conferred by Capt. John J. Kelley Post #1355 VFW and the U.S. Coast Guard Honor Guard.
Hackman Chapel of Hackman Family Funeral Homes, 114 S. Nottawa St., Sturgis, is entrusted with the arrangements.
The family suggests those wishing to make a memorial donation in Harold's memory consider Heartland Hospice, 8075 Creekside Drive, Portage, MI 49024; or St. Joseph County Animal Control, 652 E. Main St., Centreville, MI 49032.
His obituary is also at www.hackmanfamilyfuneralhomes.com, where personal messages of support may be left for the family.