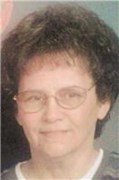 Ida Jane Smith, age 75, of Burr Oak, passed away Wednesday morning, Jan. 10, 2018, at Fairview Nursing and Rehabilitation in Centreville.
She was born June 17, 1942, in Des Moines, Iowa, a daughter of the late Gerald and Esther (Galenback) Sanford.
Ida resided in the Sturgis and Burr Oak area since 1971, coming from the Chicago area.
In September 1970, she married Don H. Smith. He died Dec. 21, 2016.
Ida retired in 2003 from Dometic Corporation in LaGrange, Ind., following 28 years of dedicated employment.
She was a member of St. John's Lutheran Church in Sturgis.
Ida enjoyed bowling, cooking, doing home crafts and loved time spent with family.
She is survived by a daughter, Donetta (Dave Merkle) Smith of Sturgis; a son, Tim (Jenny) Smith of Burr Oak; a stepdaughter, Penny Smith of Portage; a stepson,Chris (Sandy) Smith of Romeoville, Ill. 14 grandchildren, Charles (Kellie) Smith, Logan (Heather) Smith, Chelsie Smith, Creedon Smith, Saidey Pfenning, Austin Smith, Joshua Smith, Jeff Sutton, Ashton Sutton, Aaliyah Sutton, Mindy Price, Lisa Price, Tyler Merkle and Jake Merkle; 16 great-grandchildren; a sister, Betty Sloan of Des Moines, Iowa; a brother, Gerald Sanford of Independence, Mo.; and several nieces and nephews, including a special nephew, Mike (Tammy) Sanford of Sturgis.
She was preceded in death by her parents; her husband; a son, Robert Price; a daughter, Tammy Sanford; and a sister, Beverly Ingram.
The family will receive friends from 6-8 p.m. Monday at Rosenberg Chapel of Hackman Family Funeral Homes, 807 E. Chicago Road, Sturgis. Funeral services celebrating the life of Ida J. Smith will take place at 3 p.m. Tuesday at St. John's Lutheran Church in Sturgis. The Rev. Darin Warnecke will officiate.
In accordance with her wishes, cremation will follow the service. Private burial of the ashes will take place at a later date at Oak Lawn Cemetery in Sturgis.
Memorial donations would be appreciated to Hackman Family Funeral Homes, P.O. Box 9, Sturgis, MI 49091, to help with expenses.
Her obituary is also at www.hackmanfamilyfuneralhomes.com, where personal messages of support may be left for the family.