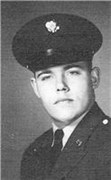 Jerry Allen Lung, age 71, of Sturgis, passed away Sunday evening, Jan. 28, 2018, at the Sturgis Hospital emergency room.
He was born May 16, 1946, in Sturgis, a son of the late DeLois "Bus" and Betty Jane (Jordan) Lung.
Jerry was a lifelong Sturgis resident and a graduate of Sturgis High School with the class of 1964.
On March 7, 1970, he married Rebecca A. Garrison in Howe, Ind. She died Sept. 6, 2005.
Jerry retired from Parma Tube Company in Sturgis. Before joining Parma Tube, he worked for more than 35 years at Grumman-Olson in Sturgis, where he held the position of head of maintenance.
Jerry was proud to have served his country in the U.S. Army during the Vietnam War, earning the rank of SP5.
He enjoyed fishing, playing poker, tinkering and working on automobiles and loved time with his family, especially his three grandchildren.
He is survived by two daughters, Sara Sosa of Howe, Ind., and Jennifer (her fiancée: Jason Mow) Lung Hernandez of Sturgis; a son, Shawn Lung of Sturgis; three grandchildren, Ismael Sosa, Isabel Sosa and Jadrian Lung Hernandez; two sisters, JoAnn Benton of Sturgis and Janet A. Lung of White Pigeon; a brother, Jeff A. (Beverly) Lung of Sturgis; and several nieces and nephews, including a special niece, Brandy Robinson of Howe, Ind.
He was preceded in death by his parents; his wife; a sister, Judy Ann Jones; and two brothers, Jack A. Lung and Jon E. Lung.
The family will receive friends from 5-8 p.m. Friday at the Hackman Chapel of Hackman Family Funeral Homes, 114 S. Nottawa St., Sturgis. Funeral services celebrating the life of Jerry Lung will be held at 11 a.m. Saturday at the funeral home. The Rev. David Ferrell will officiate. In accordance with Jerry's wishes, cremation will follow the services. A graveside committal and burial of the ashes will take place at a later date at Oak Lawn Cemetery in Sturgis. Full military honors will be conferred by Capt. John J. Kelley Post #1355 VFW and the U.S. Army Honor Guard.
Memorial donations would be appreciated to Hackman Family Funeral Homes, P.O. Box 9, Sturgis, MI 49091, to help with expenses.
His obituary is also at www.hackmanfamilyfuneralhomes.com, where personal messages of support may be left for the family.