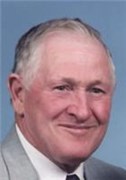 James Mac Cary, age 89, of Burr Oak, passed away Tuesday, Jan. 23, 2018, at the home of his daughter, Sherlyn Leck, in Sturgis.
James was born July 21, 1928, in Kendallville, Ind., to John Russell and Ruby Augusta (Reihm) Cary. He married Vivian L. Stukey on Oct. 24, 1949, in Howe, Ind. She preceded him in death May 23, 2017.
For more than 75 years, Mr. Cary lived in Burr Oak, where he loved his life and work on the family farm. Together with his wife, Vivian, they operated Jim Cary and Sons Farm, farming and raising gladiolas. They also spent 29 years in South Carolina, growing gladiolas.
Jim was a member of Pretty Prairie United Methodist Church in Howe, Ind., and had a great love of sports, especially baseball. He coached his children in Little League and for many years played on the family team, "Honey Lake Baseball," playing in a variety of leagues and communities. Jim enjoyed playing basketball, golf and bowling on a league. He spent many years traveling with Vivian and their friends Truman and Winnie Arver, and most enjoyed the time he spent with family.
Jim is survived by his children, Robert (Gloria) Cary of Burr Oak, Shirley (Terry) Welker of Howe, Ind., Mark (Karen) Cary of Burr Oak, Sherlyn (Rick) Leck of Sturgis, and daughter-in-law Marcia (Bill) Ulmer of Sturgis; his grandchildren, Jeff (Pam) Cary and Tina (Rick) Miller, all of Sturgis, Craig (Candy) Cary and Marcie (Sean) Johnson, all of Howe, Ind., Cary (Tim) Welker of Hilton Head, S.C., Chancy (Angela) Welker of Johns Island, S.C., Carl Welker of Howe, Ind., Joe (Jenne) Cary of Bay Village, Ohio, Adam (Lindsay) Cary of Howe, Ind., David (Lanna) Cary of Chicago, Lucas (Carol) Cronkhite of Bronson, Alexis (Matt) Vargo of Plymouth, Vivian (Kevin) Mullen of Portage and Samuel Leck of Sturgis; 17 great-grandchildren, Olivia and Rylie Miller, Gibson and Angela Cary, Nate and Ben Cary, Max and Spencer Johnson, Easton Welker, Matthew and Millie Jane Welker, Brennan Cary, Makayla and Alex Cary, Wyatt Cary, Meyeh and Layla Cronkhite, William and Gwen Vargo, and Linden and McClain Mullen; and sisters-in-law Eleanor Cary, Mary Cary, Shirley (Stukey) Brown and Marcie Cary.
In addition to his wife, Jim was preceded in death by a son, Steve Cary; a granddaughter, Angela Cary; and siblings Howard Cary, Scott Cary, Marjorie Cossairt, Mary Nelson, Myra Mayer, Julia Mayer, John Cary, Harold Cary and Phillip Cary.
A funeral service honoring Jim's life will be held at 5 p.m. Saturday, Jan. 27, 2018, at Dutcher Funeral Home in Bronson, with the Rev. Mike Cary of Parma Wesleyan Church officiating. Visitation will be held prior to the service, beginning at 2 p.m., at the funeral home.
Memorials may be directed to Pretty Prairie United Methodist Church. Online: www.dutcherfh.com.