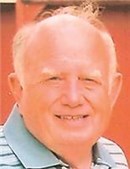 Jon David Stage, age 79, of Sturgis, passed away Tuesday afternoon, Jan. 16, 2018, at his home.
He was born Aug. 10, 1938, in Ironwood, a son of the late Henry and Marie (Skeel) Stage.
Jon resided in Sturgis since 1947 coming from Ironwood. On July 20, 1963, he married Gwen Patterson.
Most of Jon's working life was involved in the plastics industry. He retired in 1999 from Ferro Corporation in Stryker, Ohio, following 20 years of dedicated employment. At the time of his retirement, he held the position of general manager.
Jon was proud to have served his country in the U.S. Marine Corps from 1955-1959, earning the rank of Lance Corporal.
He was a member of Trinity Lutheran Church in Sturgis.
Jon was an active member of the Sturgis community. Some of his many involvements included serving on the Sturgis Hospital Board and acting as board president for 17 years, Sturgis Neighborhood Program and he filled a term of the city commission.
He is survived by his wife, Gwen; a son, David (Suzanne) Stage of Fort Wayne, Ind.; a sister, Ella Pierucki of Sturgis; a brother, Peter L. (Andrea) Stage of Sturgis; a sister-in-law: Agnes Stage of Davie, Fla.; and several nieces and nephews.
He was preceded in death by his parents; a sister, Mabel Stage; and three brothers, Robert Stage, Michael R. Stage and Dr. James Henry Stage.
The family will receive friends from 2-6 p.m. Friday at the Rosenberg Chapel of Hackman Family Funeral Homes, 114 S. Nottawa St., Sturgis. Funeral services celebrating the life of Jon David Stage will be held at 2 p.m. Saturday at Trinity Lutheran Church in Sturgis. The Rev. Calvin Kolzow will officiate. A graveside committal will follow the service at Oak Lawn Cemetery in Sturgis. Full military honors will be conferred by Capt. John J. Kelley Post #1355 VFW Honor Guard and the U.S. Marine Corps Honor Guard.
The family suggests those wishing to make a memorial donation in Jon's memory consider Trinity Lutheran Church, 406 S. Lakeview Ave., Sturgis, MI 49091; or Heartland Hospice, 8075 Creekside Drive, Portage, MI 49024.
His obituary is also at www.hackmanfamilyfuneralhomes.com, where personal messages of support may be left for the family.