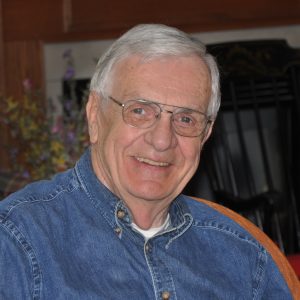 Laurence E. "Larry" Houghtaling, age 81 of Portage, died Sunday, Jan. 14, 2018 at Bronson Methodist Hospital in Kalamazoo. He was born in Three Rivers on April 30, 1936, the son of the late Earl G. and Louise (Marantette) Houghtaling. Larry graduated from Centreville High School in 1954, and then joined the US Navy. Upon his return, Larry was married to Jacquelin J. Johns on Nov. 28, 1959 in St. Edward Catholic Church in Mendon.
Larry attended Western Michigan University in Kalamazoo and established C.A.P. Studios (Custom Advertising Productions) in Portage and was instrumental in the establishment of WKMI and WTPS radio stations. He then changed careers to become an executive with the Boy Scouts of America for 33 years at several locations on the East Coast before returning to Michigan in 2001. Larry was a member of St. Martin of Tours Catholic Church, and the Knights of Columbus. He was an active volunteer with the Kalamazoo Air Zoo, the Tin Can Sailors Association, and former founding member of the Portage Rotary. He enjoyed building models, reading about history, and laughing with his family.
Larry is survived by his wife, Jackie; a daughter, Diane (Chris) Capalbo of Portage; a son, David (Yvonne) Houghtaling of Glen Ellyn, IL; three grandchildren, Christopher Capalbo, Nicholas Houghtaling, and Jacquelin Houghtaling; several nieces and nephews. He was preceded in death by his parents; two brothers, Robert and Donald Houghtaling; and by three sisters, Eileen Houghtaling, Barbara Galvon, and Ruth Gritti.
The family will receive friends from 5 to 7 pm Friday, Jan. 26, 2018 at the Eickhoff Funeral Home in Mendon, and where the Rosary will be recited at 7 pm. The funeral mass will be at 11 am Saturday, Jan. 27, 2018 at St. Martin of Tours Catholic Church in Vicksburg with Msgr. Thomas Martin officiating. Cremation will follow services with an interment later in St. Edward Catholic Cemetery in Mendon. Memorials may be directed to either Charcot-Marie-Tooth Association, St. Martin of Tours Building Fund, the Boy Scouts of America, or the West Michigan Cancer Center. Condolences may be expressed to the family online at www.eickhofffuneralhome.com