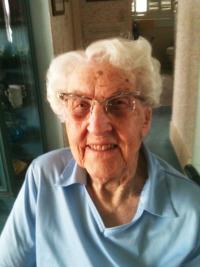 Leola Marjorie Johnson, age 99, formerly of Three Rivers, died Monday, Dec. 18, 2017 at Birches Adult Foster Care in Leonidas.
She was born in her parents' home, in Rockford on Aug. 31, 1918, the daughter of Adam and Ada (Zimmerman) Hammer. Leola was married to James Paul Johnson on the lawn of the family home in Rockford on Aug. 7, 1941. Leola received a B.S degree from Michigan State College (now University) in mathematics and a M.S. degree in Education from Western Michigan University.
A teacher at heart, she began her teaching career in rural schools in Kent County. Following her marriage, she taught in Ionia County rural schools, Belding Public Schools, and finished her formal career with the St. Joseph County Intermediate School District, teaching homebound students. Leola was a member of local and state educational associations.
An active volunteer, she donated service, time, and finances to her church (currently a member of Berean Baptist Church in Portage), to various social, spiritual, and political organizations and projects, impacting people from birth to end-of-life decisions.
Her hobbies included sewing, gardening, entertaining family and friends, and travel with her husband Paul. She began her personal relationship with Jesus Christ as an elementary student, and continued to love and serve Him until she met Him face-to-face in heaven.
Leola is survived by her husband of 76 years, James Paul Johnson of Leonidas; daughter, Rose Marie (Douglas) Wrung of Sunnyside, Wash.; son, Joel (Ethel) Johnson of Jonesboro, Tenn.; two foster sons, Robert (Gail) McNinch of Wyoming, Mich. and Jack McNinch of Freeland, Mich.; special friends, Paul & Jan Grandlinard and their family; 13 grandchildren; 31 great-grandchildren; and one great-great-grandchild. She was preceded in death by her parents; a sister, Crystal Cuthbert; and four brothers, Maxwell, Harold, Preston, and Dayton Hammer.
In keeping with her wishes, cremation has been conducted. Services will be held 11 a.m. Saturday, Jan. 13, 2018 at the Eickhoff Funeral Home in Mendon, with visitation before the service from 10:30-10:50 a.m. and at a luncheon to immediately follow the memorial service. Memorial donations may be directed to a long-time beneficiary of Leola and Paul, the Baptist Children's Home, 354 West Street, Valparaiso, Ind. 46383, or at 219-462-4111 for debit or credit card contributions. Assistance was provided by the Eickhoff Farrand Halverson Chapel of Three Rivers. Condolences may be expressed to the family at www.efhchapel.com.