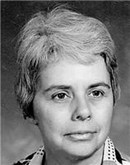 Margaret Elizabeth Fee Adams, age 85, of Sturgis, passed away Sunday evening, Jan. 28, 2018, at her home.
She was born Nov. 21, 1932, to Helen Ann (Babbage) Fee and Laurence Francis Fee in Coudersport, Pa. She moved to Buffalo, N.Y., with her family at a young age.
Margaret graduated from Fosdick Masden High School in 1950 and enrolled at Buffalo State University, where she graduated with a bachelor's degree in education. On Aug. 4, 1956, she married Eldred Rutledge (Rutty) Adams. They had six children, Tom, Sam, Mark, Gwen, Pete and Megan.
Margaret was an educator, an active member of the community and a mentor to many people, personally, professionally and spiritually.
In the early years, Margaret taught in various schools while Rutty finished college. She was then a stay-at-home mom until the kids were older. At that point in the mid-1970s, she became the director of the Sturgis Child Care Center. She was instrumental in expanding the Child Care Center to serve the community and at times did not take a paycheck so the other employees could be paid and the center could live on. She had a passion for working with young children and touched many lives at the center while working with a team of wonderful staff members and colleagues.
Margaret loved art, literature and movies. She was a lifetime member of the Art Institute of Chicago. She was a life-long learner and when she was 48, she received a master's degree in early childhood education. After leaving the center, she became a kindergarten teacher at Sturgis Public Schools, where she again touched many young lives.
Upon retirement from SPS, she was elected to the SPS Board of Education and served from 1999 to 2004.
Margaret was active in First United Methodist Church of Sturgis and was director of early education. She was also active in Adventures for Life-Long Learners, Friends of the Library, Girl Scouts and the Fresh Air program to bring children in New York City to the country.
Margaret and Rutty and the children took many fun and educational vacations in their travel trailer on the East Coast and spent time every summer in the Adirondack Mountains in New York state. Margaret traveled to Europe numerous times with her friends and family.
She was preceded in death by her brother, Paul Fee and parents, Laurence and Helen Fee. She is survived by her husband, Rutty; children Tom (Jo) of Lander, Wyo., Sam of Kalamazoo, Mark (Laura) of Howe, Ind., Gwen Donmyer (Brad) of Sturgis, Pete (Crystal) of Constantine and Megan (Joe) of Washington, D.C.; 20 grandchildren and nine great-grandchildren.
The family would like to thank Matthew 7:7 for their extraordinary care of their mother for the seven years she lived there.
In accordance with her wishes, cremation has taken place. The family will receive friends from 6-8 p.m.. Thursday at the Rosenberg Chapel of Hackman Family Funeral Homes, 807 E. Chicago Road, Sturgis. A memorial service celebrating and honoring the life of Margaret E. Adams will be held at 11 a.m. Friday at First United Methodist Church in Sturgis. Pastor Robert Keim will officiate. Private burial of the ashes will take place at a later date at Oak Lawn Cemetery in Sturgis.
The family suggests those wishing to make a memorial donation in Margaret's memory consider the Margaret Adams Scholarship Fund, c/o Sturgis Area Foundation, 110 N. Franks Ave., Sturgis, MI 49091.
Her obituary is also at www.hackmanfamilyfuneralhomes.com, where personal messages of support may be left for the family.