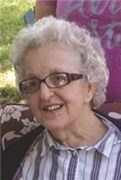 Sarah Elizabeth Hahn, age 82, of Sturgis, passed away Friday afternoon, Jan. 6, 2018, at Grace Healthcare in Three Rivers.
She was born June 30, 1935, in Jackson, daughter of the late Rev. Clyde and Elda (Geyer) Hildebrand.
Sarah resided in Sturgis since 1957 coming from Colon where she was a graduate Colon High School with the class of 1953.
On May 27, 1956, she married Ernest Hahn in Colon. He died Nov. 29, 2011.
Sarah retired in 2002 from Sturgis Public Schools Food Services following 10 years of dedicated employment. She had also worked at the Sears store in Sturgis for seven years.
She was a longtime active member of the Trinity Lutheran Church in Sturgis where she was a member of the Ladies Aid, Altar Guild and sang in the choir. She enjoyed reading, knitting and crocheting and had made many baby quilts over the years. Sarah had involvements and hobbies in her life but what she truly loved was times she was surrounded by her family, especially her grandchildren and great grandchildren.
She is survived by two daughters, Elizabeth (Robert) Bailey of Sturgis and Linda Rheinheimer of New Castle, Ind.; three sons, Timothy (Julia) Hahn of Sturgis, Thomas (Mary) Hahn of Sturgis and James Hahn of Kentwood; six grandchildren, Charles Bailey, Michael Bailey, Matthew Bailey, Noah Hahn, Stephanie Knauf and Melissa Clark; 11 great-grandchildren, McKenna Featherstone, Maddison Bailey, Mason Bailey, Morgan Bailey, Micah Sweitzer, Damien Bailey, Harper Bailey, Hayes Bailey, Mazie Hahn, Janson Hahn and Carson Clark; sister-in-law, Patricia Hildebrand of Valparaiso, Ind.; and several nieces and nephews.
She was preceded in death by her parents; husband; and brother, David Hildebrand.
The family will receive friends from 2–4 p.m. and 6-8 p.m. Friday at the Hackman Chapel of Hackman Family Funeral Homes, 114 S. Nottawa St., Sturgis, MI 49091, 269-651-2331. Funeral services celebrating the life of Sarah Elizabeth Hahn will be held at 11 a.m. Saturday at the Trinity Lutheran Church in Sturgis. The Rev. Calvin Kolzow will officiate. A graveside committal will follow the service at Oak Lawn Cemetery in Sturgis.
The family suggests those wishing to make a memorial donation in Mrs. Hahn's memory consider the Trinity Lutheran Church, 406 S. Lakeview Ave., Sturgis, MI 49091.
The obituary is also at www.hackmanfamilyfuneralhomes,com where personal messages of support may be left for the family.