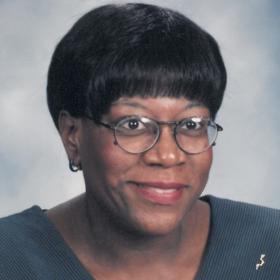 Throughout her rich and rewarding life, Susan Roberts simply radiated of the love she had for the Lord. She lived a life of faith, compassionately serving others and loving everyone without condition. Susan was completely devoted to her family, and it has been said that she was the rock throughout any storm their family faced. She didn't hesitate to speak her mind, but she always did so in both grace and love. Life will never be the same without Susan here, but her family finds comfort in knowing that she is enjoying perfect peace in her eternal home.
It seems only fitting that Susan's journey began during a time that was as vibrant as she was. It was the 1950s when James Dean and Marilyn Monroe were big names on the silver screen while at home televisions were becoming commonplace in living rooms all across America. It was during this eventful time that Susan Vanessa was welcomed into the world by her mother, Bertha Mae (White) Wright on November 14, 1952, in St. Louis, Missouri. She was one of the middle of six children, and she was raised by her mother and the only father she knew, Rev. Frank Jenkins Wright. They moved to Three Rivers, when Susan was just a young girl. Times weren't easy with very little money to go around, and their family moved around a lot within the Three Rivers area. She had many kind aunts and uncles who made sure they had special memories and experiences. Susan was very close to her brothers and sisters as well.
From the time she was young, Susan was a bustle of activity and has even been called a spitfire. She attended local schools including Three Rivers High School where she was a gifted athlete, both at track and as captain of the cheerleading team. Susan could high jump like no other, and as a cheerleader her toe touches were unmatched. She was also in singing groups with her sister, primarily singing gospel music. After graduating from high school in 1971 Susan went on to Glen Oaks Community College. There, she cheered, became the homecoming queen, and earned her associate's degree. Susan also spent a semester at Central Michigan University but discovered that it wasn't a good fit. She also worked as a telephone operator at GTE from 1972 through 1973 and was a member of the IBEW.
Not to be forgotten during her years as a young woman was Susan's introduction to the man who would change the course of her life forever. He was a young man from Otsego High School named Jerome Roberts, and she couldn't help but think he was so cool with his 1969 Javelin. They had been introduced through friends at a carnival in Three Rivers. Sparks flew, and after dating for one year they were married on July 13, 1974, exactly one year to the day after they met. Susan and Jerome exchanged their vows at First Baptist Church in Three Rivers. They started a family right away, and together they were blessed with the births of three children, Michael, Jeremy, and Rachel. Susan stayed home to care for her family and children until her youngest was in school. Between her and her husband, there was always someone there for all their kids' events and activities.
Ready to continue learning, Susan studied to be a teacher at Western Michigan University. She first earned her bachelor's degree and later her master's degree in educational leadership, graduating Magnum Cum Laude as well. Devoted to her community and the people who live there, Susan worked as a kindergarten teacher at Amberly Elementary for a few years. She then became the assistant principal at Amberly and also taught part-time. Eventually, Susan became the principal at Central Elementary, where she remained for about 15 years until she retired in 2013. It was important for her to greet every child entering her building, every morning. Susan inspired so many, touching countless hearts and lives.
There was never anything of greater importance in Susan's life than the people around her. She was an amazing mom who was the backbone of the family. Susan introduced Christ to her children at a young age and encouraged them to give their lives to the Lord. She required her children to do Bible study every morning before the bus came, but she demonstrated this in her own life as well. Susan was very outspoken about her faith, and she knew what her purpose was in this world. Her children knew they could call her at any time and she would listen or pray with them, and she always had their back no matter what happened. Fun family memories were made at Henry Ford Village, and although she was afraid of everything, she also took her kids to Cedar Point every year. Susan could always make her children laugh, and since she loved to laugh her laughter was always contagious. She was filled with unspeakable joy to become a grandmother six times over, and although she was sick throughout their lives she was such a special part of their lives. Susan had a special connection with Susana, her namesake, and they were truly best friends. She loved laughing and joking around with them, and at times they would all climb in bed with her to watch television. Little Braxton was the last grandchild she was blessed to see enter the world. He was a bigger blessing than she had imagined, as he brightened many of her last days here on earth.
Throughout her life Susan was a passionate woman. She loved to laugh, and this is how one could always tell that she was in the room. Susan was a past member of Bible Baptist Church and Oakwood Bibles Church, where she was very involved. She remained involved in Bible studies throughout her life and was also close to those in her group as they enjoyed going out to do fun things on a regular basis. A huge fan of I Love Lucy, Susan loved all things Lucille Ball. She and Jerome loved watching old movies together, and they also cooked together and sang in church together. Susan loved family gatherings and made even the ordinary extraordinary. Even as she was fighting one health struggle after another, she remained positive and was forever praising her Lord. In the midst of enduring dialysis for almost 10 years, Susan remained strong and courageous.
Truly beautiful on the inside and out, Susan Roberts was a gift in the lives of everyone she met. She had a magnetic spirit and a joy that others could easily feel. Susan brightened the room and building she was in, and she was always a ton of fun and quick to share a funny joke. She was an amazing mother and grandmother, and her dedication to the people and causes she loved were inspiring. Deeply treasured, Susan will be forever missed.
Susan Venessa (Wright) Roberts, of Portage, Michigan, passed away, Tuesday, January 16, 2018, after she fought the good fight, finished the race, and kept the faith. Susan's family includes her only daughter, Rachel M Roberts, of Kalamazoo; two sons, Michael A. Roberts, of Plano, TX, and Jeremy M. (Nicolé) Roberts, of Macomb, MI; two sisters, Jacqueline Grey and Canary (Jerome) Bryant; one brother, Mark L. Wright; six grandchildren, Kallel, Susana, and Johnathan Roberts, Nia and Jaden Roberts, and Braxton Richards; and many cousins, nieces, nephews, and friends. She was proceeded in death by her older sister Deborah Falkner and younger brother Frank Wright. Visit with family and friends while sharing food and refreshments on Friday (Jan. 19) from 5-8 p.m. at the Betzler Life Story Funeral Homes, 6080 Stadium Drive; Kalamazoo (269) 375-2900. Services will be held Saturday 11 a.m. at Oakwood Bible Church. Burial at Grand Prairie Cemetery. Memorials can be made to future endowment fund to be established to offer educational scholarship c/o Rachel Roberts. Please visit Susan's personal webpage at www.BetzlerFuneralHome.com, where you can archive a favorite memory or photo of her and sign her online guestbook before coming to the funeral home.