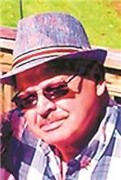 Alan D. Myers, age 71, of Sandston, Va., and formerly of Colon, passed away on Monday, Feb. 26, 2018, at McGuire VA Medical Center Hospice in Richmond, Va.
He was born Dec, 17, 1946, in Sturgis, a son of the late Ivan and Vyrl Myers of Colon.
Alan graduated from Colon High School in 1964 and went to DeVry University in Chicago to study engineering. Alan enlisted in the U.S. Army and served from February 1966 to February 1969. He served 18 months in Wurzburg, Germany, prior to being sent to Vietnam. Alan had been retired for 10 years and enjoyed motorcycling, golfing, NASCAR and experiencing this great country with trips with friends.
On Aug 12, 1967, Alan married Rebecca L. (Bryan) Myers at Church of God in Colon. She survives, along with one child, Treasa (George) Avgeros of Richmond Va.; and two grandsons, Ulysses and Christos of Virginia Beach, Va. Alan was preceded in death by his parents; a brother, Jeff; and two daughters, Erica Lin and Alyce Anne.
Alan made his home in Sandston, Va., for the past 29 years. He is a member of VFW and attended and served in Living Hope Church.
The family will receive friends from 6 to 8 p.m. Friday, March 2, at Schipper Funeral Home in Colon. The funeral will be at 11 a.m. Saturday, March 3, 2018, at the funeral home, with Marie Wagner officiating. Interment will follow at Lakeside Cemetery in Colon.
In lieu of flowers, a donation may be made to 1Q Journeys Way at McGuire VA Medical Center. Envelopes are available at the funeral home or online at www.volunteer.va.gov/apps/VolunteerNow.