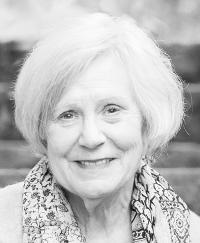 Annette Patricia Ashby, 72, died peacefully at Maltz House of Montefiore on Feb. 16, 2018 after a yearlong battle with metastatic melanoma. Annette was born in Detroit, to Marceline and John Ashby on June 27, 1945.
She graduated from St. Paul's High School in Grosse Pointe, and then received a Bachelor's degree from Western Michigan University. She went on to earn an MA in History, an MA in Library Science, and an MA in Educational Leadership, as well as certification for educational leadership, all from Western Michigan University.
Annette was a member of the faculty and administration of Three Rivers Community Schools for over 35 years. During those years she taught history and US government, served as the media specialist, and spent several years as the Assistant Superintendent of Curriculum and Instruction. She loved her students and hearing about all that they accomplished after high school. Her dramatic re-telling of historical events endeared her to generations of Wildcats.
Annette was preceded in death by both of her parents. She leaves behind in her immediate family her daughter, Mary Beth Jarrad, Anne Jarrad (Ryan Thomas) and her two grandchildren, Jack and Emmy Thomas, who loved their Oma more than words could express.
In lieu of flowers, gifts may be made to the Nursing Education Fund at Seidman Hospital or to Maltz Hospice House at Montefiore in deep gratitude for all of their wonderful care.
Funeral Mass and Celebration of Life Tuesday, April 3, 2018 at 2 p.m. at Immaculate Conception Church, 601 So. Douglas Ave., Three Rivers, MI. Interment Private. Arrangements by Schulte & Mahon-Murphy Funeral Home, Lyndhurst, Ohio. Please sign Guest Book at: www.schultemahonmurphy.com.