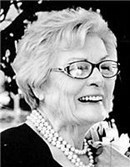 Bobbie Brown Whittington, age 94, passed away peacefully on Saturday, February 3, 2018 surrounded by her family. Bobbie was a loving wife, mother, grandmother, and great-grandmother. She was a gracious southern lady and loved her family and friends. She enjoyed gardening, sewing, cooking, and many other activities. She was an excellent role model and teacher who will be deeply missed.
Bobbie grew up on a farm in South Georgia and was the eldest of nine children. She taught 3rd grade in South Georgia, then moved to Atlanta to work and attend Atlanta Business College. She moved to Chicago and worked for the Upjohn Company before marrying Kenneth J. Whittington. They lived in the Coldwater/Marble Lake, Michigan area before moving to Mendon, Michigan. While living in Mendon, Bobbie worked as a secretary in the Mendon School Superintendent's office for many years, then worked for the bank in Mendon until Kenneth passed away. Throughout their marriage, Bobbie was instrumental in Christian music ministry with her husband. Upon her return to Georgia, she successfully obtained her Real Estate License, but soon decided to work for her family in Atlanta when the opportunity presented.
She was preceded in death by her husband, Kenneth J. Whittington, her parents Leroy and Ollie May Bowen, her stepmother Elizabeth Bowen, three siblings who passed away before the age of 5, brother Wade Bowen and sister JoAnn Bowen Mincey.
Bobbie is survived by her children K. Dean Whittington (Jan) and Pam Whittington Rye (Stan); grandchildren Jennifer Whittington, Kristin Whittington Walker (Cameron), Bryan D. Whittington (Kara), Chelsea Rye Brueder (Michael), Jessica Rye Weston (Chris); great-grandchildren Erin and Connor Smith, Ella Walker, Ava Whittington, Anna, Logan, and Bennett Weston; brothers and sisters, Bruce Bowen, Colleen Bowen Davis, Kathleen Bowen (Edsel) Bullard, Vena Faye Bowen Gray, Truman Bowen (Evone), Rita Bowen Taylor and families.
Bobbie was preceded in death and survived by many extended family members and friends. She could be quoted, "I love them all and want the best for each one". She spent her life doing for others, whether it was cooking their favorite meal or baking their favorite dessert using garden fresh ingredients. She taught us the importance of "taking good care of things so they'll last". She blessed her family with many stories and laughs with fun experiences through the years to remember.
Funeral services will be held Friday, February 9, 2018 at 11am at the Eickhoff Funeral Home in Mendon, with the Pastor David Szymczak officiating. The family will receive friends for one hour prior to services at the funeral home. The interment will follow at Mendon Cemetery. Condolences may be expressed to the family online at www.eickhofffuneralhome.com
Memorial donations may be made to Billy Graham/Samaritans Purse at www.billygraham.org and www.samaritanspurse.org