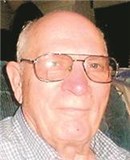 Calvin Wayne "Kelly" Rynearson, age 93, of Sturgis, passed away unexpectedly Wednesday, Feb. 7, 2018.
He was born Dec. 19, 1924, in Kendallville, Ind., a son of the late Ollie and Edith Rynearson.
Calvin was first married to Ethel Dost. This marriage ended in divorce in 1973. On Sept. 9, 1977, he married Janet I. Zellak in Sturgis. She preceded him in death Sept. 26, 2000.
Calvin grew up in Northern Indiana and had been a resident of Sturgis for more than 40 years.
He is a veteran of the U.S. Army, serving during World War II and the Korean War.
Calvin was a tool-and-die maker by trade and retired from Kirsch Company in Sturgis and also retired from Lear Corporation in Mendon. He enjoyed staying busy and working, so he then went to work for the past 17 years at Marty Hart's Auto and was employed there until his death.
He enjoyed woodworking, golfing, bowling, driving around the countryside, gardening and yard work.
Surviving are children, Katherine (Rick) Irish of Paw Paw, Brad Miller of Paw Paw, Elizabeth Miller of Sturgis and Rodney (Marta) Rynearson of Kalamazoo; numerous grandchildren and great-grandchildren; a sister, Gertrude Burgi of LaGrange, Ind.; and numerous nieces, nephews and cousins.
He was preceded in death by his parents; his wife; three children, Jannet, Alan and Dale; three brothers, Dale, Harold and Robert; and five sisters, Marjorie, Joyce, Ruth, Mildred and Treva.
The family will receive friends and relatives 4 to 7 p.m. today, Friday, at Rosenberg Chapel of Hackman Family Funeral Homes, 807 E. Chicago Road, Sturgis.
Services celebrating the life of Calvin "Kelly" W. Rynearson will be held at 11 a.m. Saturday at Hackman Chapel of Hackman Family Funeral Homes, 114 S. Nottawa St., Sturgis.
Interment and graveside services will be held at noon Monday at Oak Lawn Cemetery, with full military honors by the U.S. Army Honor Guard and Capt. John J. Kelley V.F.W. Post #1355.
The family suggests memorial donations be directed to Capt. John J. Kelley V.F.W. Post #1355 or Nature Conservancy. Envelopes are available at Hackman Family Funeral Homes in Sturgis.
His obituary is also at www.hackmanfamilyfuneralhomes.com, where personal messages of support may be left for the family.