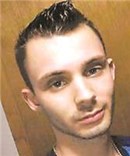 Colin James Currier, age 24, of Burr Oak, passed away Tuesday, Feb. 20, 2018, at Sturgis Hospital.
He was born July 8, 1993, in Sturgis, a son of Dennis and Kathy Currier and Erica (Draper) Witte.
Colin was a resident of Burr Oak all his life and graduated from Burr Oak High School with the class of 2012.
He was employed in the RV industry as an electrician and was currently employed by Dutchman/Keystone RV.
Colin enjoyed Xbox, videogaming, DragonBallZ and spending time with his friends and family.
He was attending Oakland Community College and working toward a degree in criminal justice.
Surviving are his parents, Dennis and Kathy Currier of Burr Oak, and Erica (Jurgen) Witte of Lake Orion; his siblings, William, Nichole, Alicia, Kody, Ashley, Noah, Chellsie, Erica, Marissa and Courtney; Grandparents William (Gaye) Currier and Diana (James) Bolitho and Eleonore Witte; and numerous nieces and nephews.
He was preceded in death by his grandmother, Beverly Currier; and two grandfathers, Homer Draper and Horst Witte.
The family will receive friends and relatives 6-8 p.m. Friday at the Rosenberg Chapel of Hackman Family Funeral Homes, 807 E. Chicago Road, Sturgis.
A memorial service celebrating the life of Colin James Currier will be held at 11 a.m. Saturday at Burr Oak Missionary Church, 327 N. 3rd St., Burr Oak, with Pastor George Milliman officiating.
Memorial donations may be directed to Burr Oak Community Schools for CTE programs or Burr Oak Missionary Church for youth programs. Envelopes are available at the funeral home.
His obituary is also at www.hackmanfamilyfuneralhomes.com, where personal messages of support may be left for the family.