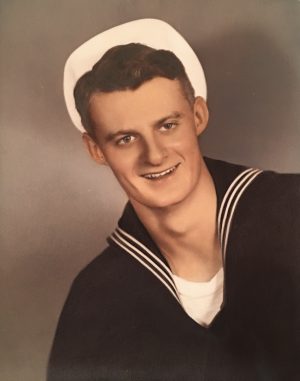 David Lee King, 82, of Three Rivers, went to be with the Lord on February 19, 2018 at his home. He was born in Lansing on June 3, 1935, a son of Leo and Hilda (Shaffer) King. Dave graduated from Bloomingdale High School in 1954 and went on to complete one year of Bible School at Trinity College in Florida. He then proudly served in the United States Navy from 1955-1959. On July 17, 1957, he married Dorothy "Dottie" Murray in Jacksonville, FL, with his dad officiating the service.
David worked at Upjohn for 31 years, retiring in 1995. Previously, he worked for Pratt and Whitney Aircraft in Florida and also for Michigan Cottage Cheese driving truck. He loved woodworking and enjoyed singing, music, and memorizing Scriptures. He was a life long member of Fish Lake Bible Church and previously directed the "Super Sixties" program at church for 10 years.
Surviving Dave are his wife Dorothy "Dottie" King of Three Rivers, daughter Deborah King of Three Rivers, son Daniel E. (Lori) King of Jacksonville, FL, grandchildren Karina (Kurt) Hale of Jacksonville, FL, Kristen (Roger) Stamp of Jones, Melissa (Johnny) Schwartz of Kalamazoo, Jennifer (Michael) Torres of Texas, Samuel VanDyke of Portage, and Gabriel VanDyke of Portage; and 12 great-grandchildren.
He was preceded in death by his parents and brother Don King.
Relatives and friends will be received Thursday, February 22, from 5-8PM at Fish Lake Bible Church. Religious services with military honors will be held on Friday, February 23 at 11AM at church with Pastor Tim Brondyke officiating. Memorial contributions may be made to Fish Lake Bible Church Building Fund.
Arrangements were entrusted to Eley Funeral Home, Centreville. Online condolences may be left for the family at www.eleyfuneralhomes.com.