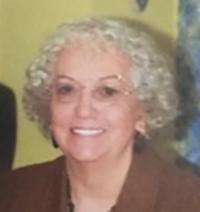 Eunice Marie (Schmittler) Carr of White Pigeon passed away from natural causes on Monday, Feb. 12, 2018, after receiving very compassionate care from the staff at Thurston Woods Care Facility in Sturgis. She was born in Grayville, Ill. on Dec. 13, 1931 to Walter and Florence "Flo" (Marriott) Schmittler.
She had four sisters — Joyce (Bud) Nothdruft; Clairice "Merle" Schmittler; Norma (Bud) Garrett; and a half-sister Beverly (Ronald) Wood. Her parents along with Joyce, Merle, and Beverly preceded Eunice in death.
Eunice was married to James Vellenga. They later divorced. Together they had four children – Ronald Vellenga (Sally) of White Pigeon; Donald Vellenga (deceased); Dianne (David) Fenner of White Pigeon; and Sherry (David) Miller of Elkhart, Ind. She later married Lyle Carr, who preceded her in death. They had two children – Wayne Carr (deceased); Daniel (Luellen) Carr of White Pigeon; and a stepdaughter Masha (Dan) Forstner of Mottville. Eunice is survived by 12 grandchildren, 10 great-grandchildren, and one great-great grandchild.
During her years living in White Pigeon, Eunice was very active in her community and in her church. She would regularly hold a Sunday School for the local neighborhood children. She also organized and ran town revivals in the village park as well as opening a free clothing giveaway center in White Pigeon for a few years. Eunice and Lyle were instrumental in starting a number of churches in the White Pigeon/Middlebury area. Her faith in Jesus was her driving force throughout most of her life and she shared her faith at every opportunity.
The funeral will be held at Farrand Funeral Home on Saturday, Feb. 17 at 11 a.m. There will be a celebration of Eunice's life with a dinner at The Country Table restaurant in White Pigeon will follow the funeral (1 p.m.).
The family requests that any gifts or donations be directed to Hospice of Sturgis Hospital in Sturgis or Hospice of Southwest Michigan.