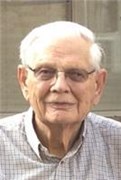 George F. Classen, age 89, of Sturgis, passed away Sunday morning, Feb. 4, 2018, at the Birch's of Leonidas, in Leonidas.
He was born Sept. 23, 1928, in Meade, Kan., son of the late Jacob R. and Anna (Friesen) Classen.
Mr. Classen resided in Sturgis since 1971 coming from Walnut Hill, Fla.
On July 23, 1948, he married Bertha F. Loewen in Meade, Kan. She died Jan. 29, 2018.
Mr. Classen retired in 1991 from Finnermans Farm and Garden Equipment in Centreville following 20 years of dedicated employment as the company parts manager. While living in Florida he was involved in farming.
He enjoyed traveling and reading and had a true passion for the work he did with the Gospel Echoes Prison Ministry for 18 years.
He is survived by three daughters, Judy (Gary) Miller of Sturgis, Marj Jackson of Kalamazoo and Norma (Eugene) Troyer of Sturgis; two sons, Loren (Sharon) Classen of Goshen, Ind. and Merlin (Wilma) Classen of Mendon; 14 grandchildren; 20 great-grandchildren; and several nieces and nephews.
He was preceded in death by his parents; wife; one sister, Marie Reimer and three brothers, Martin, Dick and Willie Classen.
The family will receive friends from 10 to 11 a.m. Tuesday at the Sturgis Evangelical Church, 28201 E. Fawn River Road in Sturgis. Funeral services celebrating the life George Classen will be held at 11 a.m. Tuesday at the church. Pastor Clint Wood will officiate. A graveside committal will follow the service at the Locust Grove Cemetery in Burr Oak.
The Hackman Chapel of Hackman Family Funeral Homes, 114 S. Nottawa St., Sturgis, MI 49091, 269-651-2331 is entrusted with the arrangements.
In lieu of flowers the family suggests those wishing to make a memorial donation in Mr. Classen's memory consider The Birch's of Leonidas, 30895 King Rd., Leonidas, MI 49072.
The obituary is also at www.hackmanfamilyfuneralhomes.com where personal messages of support may be left for the family.