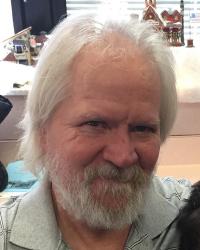 James Vernon Loomis, age 55, resident of Three Rivers, passed away on Feb. 8, 2018 at his home surrounded by his family.  James was born Dec. 24, 1962 in Elkhart, Ind.
He graduated from Constantine High School and took automotive classes at Glen Oaks College. He lived in Union, Mich. and Goshen, Ind. before moving to Three Rivers 20 years ago.  James was a lumberjack and heavy machine operator, owned his own saw mill and built two houses —one at his residence on Harwood Lake and another one in Tennessee.  He was also an avid morel mushroom hunter.  If you asked him where he hunted he would grin and say, "In the woods."
He is preceded in death by his father Edwin Loomis.
James is survived by his beloved Beryl, his mother Dr. Norma Loomis, his brother William Loomis and wife Pam; his children Matthew Loomis, Nicole Loomis, and Parker Loomis and his grandsons Landon and Kameron.
A visitation to celebrate Jim's life will be held Friday, Feb. 16, 2018 2-4 p.m. and 6-8 p.m. at Hohner Funeral Home in Three Rivers. A memorial service will be held on Saturday, Feb. 17, 2018 at The First Baptist Church of Newberg in Jones, MI starting at 11 a.m. with Mike Owens officiating.
In lieu of flowers memorial donations can be made to the North Central Indiana Teen Challenge. Envelopes are available at the funeral home. Online condolences may be left at www.hohnerfh.com.