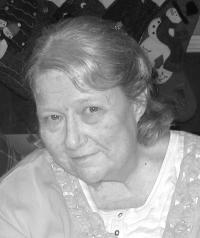 Linda L. Ingraham, age 70, went home to be with her Lord, Monday, Feb. 12, 2018. Linda Ingraham was born Sept. 10, 1947 in Three Rivers, to Robert L. and Gwendolyn E. (Buys) Goodwin. She spent most of her life in Michigan.
Linda attended and graduated from Three Rivers High School in 1965. She went on to attend Southeastern Bible College in Birmingham, Ala. After returning to Three Rivers, she met the love of her life, David William Ingraham. They were united in marriage on May 22, 1971, and lived most of their married life in Three Rivers.
She eventually earned an Associates Degree from Glen Oaks Community College. Linda also worked at the Three Rivers Manor, before moving to Medical Records at the Three Rivers Area Hospital. She was involved in the community in a variety of ways. She performed in several Three Rivers Community Players theater performances. Linda also enjoyed catering for friends' events.
Linda loved fishing and spending time together with her family. She loved encouraging her sons and her grandchildren, in their ball games, concerts, theater performances, and other activities. Linda loved children of all ages. She was also involved in Howardsville Gospel Chapel, serving in youth ministry and singing in the choir.
Upon her husband's retirement, they moved to Midland, Mich., and later to Georgia.
Linda is survived by two sons David (Jen) Ingraham of Ada, Minn. and Rob (Sandy) Ingraham of Fayetteville, Ga.; nine grandchildren, Dylan, Caleb (Rebecca), Zachary, Jordan, Abigail, Noah, Grace, and Emma. Also by her mother, Gwendolyn (Buys) Morganstern; sister, Cheryl (Richard) Thomas, and nephews. There will be a private memorial service later this summer in Michigan.
She was preceded in death by her husband, David; father, Robert; sister, Barbara; and brother, Robert.
Her children rise up and bless her… (Prov. 31:28a NAS)
Carl J. Mowell & Son Funeral Home, Peachtree City – www.mowellfuneralhome.com.