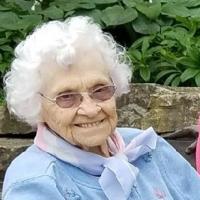 Lucile Marie (Borgert) Robinson, age 98, of Mendon, passed away Monday, Feb. 12, 2018 at Three Rivers Health.
She was born Nov. 18, 1919 in Sherman Twp., Mich. a daughter to the late Frank W. and Agnes (McLauchlin) Borgert.
Lucile grew up on the Borgert farm in Sherman Twp. and graduated from Sturgis High School with the class of 1937.  After High School she worked at Kirsch Company in Sturgis for eight years until her marriage on Dec. 27, 1946 to Robert E. "Bob" Robinson at Salem Lutheran Church. They were married for 68 years and resided at the Robinson Farm until his death in September 2014.
Lucile attended college while raising her family and graduated from Western Michigan University with a degree in Education and taught school in Nottawa, Centreville, and many years as a third grade teacher in Mendon.
Surviving are their children: Ellen Robinson, Linda Murray, Robert L. (Barbara) Robinson, Brenda (John) Chobot, and James Q. Robinson all of Mendon; Grandchildren: Sarah Chobot of Glendale, Colo., Elizabeth (Gavin) Best of London, UK, Samuel Murray of Mendon, Julia Robinson a student at USC in Columbia, S.C., and Charlotte Robinson studying at UCF in Orlando, Fla.; sister-in-law: LaVonne Borgert and many nieces and nephews.
She was preceded in death by her parents, her husband: Robert E., grandson: Patrick Robinson, siblings: Frances (Karl) Frays, Jean Ann (Kenneth) McCollum, Frank (Wava) Borgert Jr., and Daniel Borgert.
Lucile was a member of many organizations including: Mendon Prairie Social Club, Mintdale Women's Club, Mendon Women's Club, Mendon Bridge Club, Centreville Bridge Club, Farm Bureau, Michigan Draft Horse Breeders, U.S. Calvary Association, Michigan Retired School Personnel.  She was also a member of Salem Lutheran Church, the Mendon School Board, Mendon Band Parents, and a 4-H Leader for many years.
She enjoyed gardening, preserving foods, playing games with family, quilting, traveling, and dancing.
The family will receive friends and relatives from 4–8 p.m., Friday, at the Rosenberg Chapel of Hackman Family Funeral Homes, 807 E. Chicago Rd., Sturgis, MI 49091.
Services celebrating the life of Lucile Robinson will be held at 11 a.m., Saturday, at Trinity Lutheran Church with the Rev. James Balzer, officiating.
Interment and graveside services will follow in Oak Lawn Cemetery and a luncheon will follow at Trinity Lutheran Church Fellowship Hall.
The family suggest memorial donations be directed to Michael J. Fox Foundation for Parkinson's Research, Salem Lutheran Church or Hospice of S.W. Michigan. Envelopes are available at the funeral home.
Her obituary is also at www.hackmanfamilyfuneralhomes.com , where personal messages of support may be left for the family.