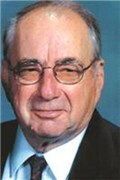 Merritt I. Hostetler, 86, of White Pigeon, died Tuesday, Feb. 6, 2018, at Borgess Medical Center in Kalamazoo, following an extended illness.
He was born March 3, 1931, in Middlebury, Ind., a son of Ottis and Nellie (Hostettler) Hostetler.
He was a veteran of the U.S. Army during the Korean War. He lived most of his life in the Mottville and White Pigeon areas and was employed as an auto mechanic for Ford. He was Auto Mechanic of the Year in Michigan.
He was a member of Trinity Missionary Church in Constantine and enjoyed his church coffee club, yard and garden care, was an avid bowler, enjoyed trains and would sing gospel at local nursing homes.
Surviving are his children, Ron (Betty) Hostetler of Goshen, Ind., Terry Hostetler of White Pigeon, Sheryl (Marvin) McConnell of White Pigeon, Steven Hostetler of Elkhart, Ind., and Kathy (Timothy) Knapp of Goshen, Ind.; 10 grandchildren; 11 great-grandchildren; three step-grandchildren; and seven step-great-grandchildren. He was preceded in death by his parents; a daughter, Debbie; and three brothers.
Relatives and friends may call from 11 a.m. to 1 p.m. Saturday at Farrand Funeral Home in White Pigeon, where services will be at 1 p.m.  Pastor Terry Neumayer of Trinity Missionary Church will officiate. Interment will be in Mottville Township Cemetery.
Memorial donations may be directed to Trinity Missionary Church.