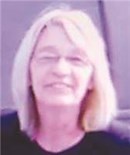 Michelle Ann Hoffman, age 55, of Sturgis, passed away Monday morning, Feb. 5, 2018, at Fairview Nursing and Rehabilitation in Centreville.
She was born June 15, 1962, in Buffalo, N.Y., a daughter of the late Michael and Marlene (Hall) Hoffman.
Michelle resided in the Sturgis area most of her life.
She is survived by a daughter, Samantha (Michel) Moser of Sturgis; three sons, Travis (Bonnie) Kirsch of New York, Keith Beller of Sturgis and William Beller of Sturgis; seven grandchildren, Paige, Hermynee, Daniel, Xyander, Daniel, Gabby and Devon; a sister, Linda (Jeff) Hershberger of Middlebury, Ind.; three brothers, Rob Hoffman of St. Louis, Phil (Colleen) Hoffman of New York and Darryl "Jake" (Mandy) Hoffman of Kansas; and several nieces and nephews.
She was preceded in death by her parents; a son, Michael Kirsch; and a brother, Ray Hoffman.
In accordance with family wishes, Michelle's body has been donated to science. The family will receive friends from 6 to 8 p.m. Friday, Feb. 16, at the Hackman Chapel of Hackman Family Funeral Homes, 114 S. Nottawa St., Sturgis.
Memorial donations to the funeral home would be appreciated to help with expenses.
Her obituary is also at www.hackmanfamilyfuneralhomes.com, where personal messages of support may be left for the family.