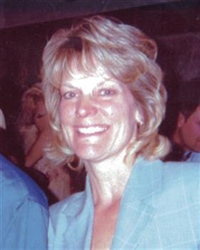 Alicia "Missy" English (McCally), age 56, of Kalamazoo, formerly of Three Rivers, passed away following a courageous battle with cancer over the last seven years at the Rose Arbor Hospice Residence on Thursday, Feb. 22, 2018 surrounded by her loving family.  She was born in Lexington, KY, the daughter of Walton James and Janice (Blough) McCally.
Missy has been a long time resident of Three Rivers where she raised her family and worked for the Three Rivers Community Schools as a bus driver for twenty-eight years.  Missy fondly remembered her last two years busing special needs children before her retirement.  Missy loved to shop, go antiquing, and she especially loved traveling with her late husband Don to Traverse City, Lake Cumberland, and many other destinations.  Her true love was being with family and grandchildren and many many friends her and Don had made over the years.
She was preceded in death by her mother, Janice (Blough) McCally, and her husband Donald R. English who passed in 2014.
Missy leaves to cherish her loving memory, two daughters, Ashley (Rod Evink) Ball, of Otsego, Mary English of Portage; two sons, Mark (Tina) English, of Portage, and Jonathan Ball, of Tennessee; her father Walton James (Jan) McCally, of Three Rivers; and three sisters, Laura McCally, Christine (Brian) Sutton, and April (Craig) Stevens as well as many nieces and nephews.  Seven beloved and adored grandchildren, Isabella, Macy, Taylin, Quinn, Karson, Jackson, and Michael.
The family will receive friends from 2:00 p.m. until time of services at 4:00 p.m. on Monday, February 26, 2018 at the Hohner Funeral Home with Pastor Robert Anderson officiating.
Interment will be held in Parkville Cemetery, St. Joseph County.
Memorials may be donated to Rose Arbor Hospice Residence.  Envelopes available at the funeral home.