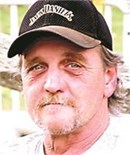 Perry Mark Strayer, age 59, passed away peacefully Wednesday, Feb. 7, 2018, at his home, surrounded by his family.
Perry was born Jan. 26, 1959, in Alma, to Henry and Betsy (Bordine) Strayer.
Perry was a loving husband, father, grandfather, brother and uncle.
He was preceded in death by his parents; two brothers; and a grandson, Jayden.
He leaves to cherish his memory his wife, Cyndi Strayer of Three Rivers; five children, Elizabeth Strayer, Samantha Strayer, Mark (Lacie) Strayer, Cheryl (Bryan) Strayer and Bobbie Strayer; seven grandchildren, Shalicia Davis, Dehashia Davis, Monica Strayer, Tyler Strayer, Hunter Strayer, Zach Nichols and Lauren Nichols; stepsons Scott Nichols and Jason Black; former spouse, Patricia Strayer; a sister; and four brothers.
Visitation to celebrate Perry's life will be held 2-4 p.m. and 6-8 p.m. Monday, Feb. 12, 2018, at Hohner Funeral Home in Three Rivers. A memorial service will be held at a later date.
In lieu of flowers, memorial donations can be made to the family in c/o Cynthia Strayer. Envelopes are available at the funeral home. Online condolences may be left at www.hohnerfh.com.