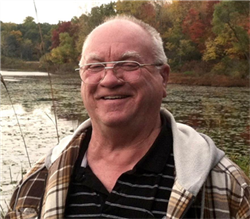 Richard Lawrence Crandall, age 72, of Three Rivers, passed peacefully at home on Tuesday, January 30, 2018, surrounded by his family.
He was born in Richmond, IN, on April 6, 1945, the son of Noah and Blanche (Cosgrove) Crandall. Mr. Crandall served his country in the U.S. Army and met his beloved wife, Sussan (Kyong) Crandall in Seoul, Korea, where they were married on May 10, 1968. They moved back to Three Rivers and made their home there. Richard was a machinist at General Motors/American Axle for 30 years before his retirement.
He leaves to cherish his loving memory, his wife of fifty years, Sussan Crandall; and daughter Shari (Randal Fuge) Crandall, all of Three Rivers.
In addition to his parents, his sisters – Betty Jo Pegg Caplinger and Jean Matheny, and brother – Richard Pegg, are also departed.
Richard enjoyed driving the backroads and fishing the lakes of the town he grew up in, collecting Nascar memorabilia, and meandering hardware stores for his next fix-it project. He appreciated a good piece of pie and a bottomless cup of coffee served with a smile. He is remembered for his devotion to his family, his readiness to lend a helping hand, and his kind, generous heart.
After a small ceremony with military honors, the family will greet friends in the atrium of Richard's favorite daily stop, the Oasis Restaurant , 656 U.S 131 in Three Rivers, from 2:30- to 4:30pm on Saturday, February 10.
The family wishes to extend their heartfelt gratitude to Reverence Home Health and Hospice for their compassionate support during the last days of his journey.
Memorial donations may be directed to Reverence Hospice.  Envelopes are available and may be sent to Hohner Funeral Home in care of arrangements.