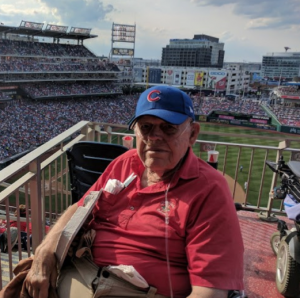 Walter A. Burkhardt, age 91, of Columbia, MD,apassed away on Sunday, February 4, 2018 at Brighton Gardens Assisted Living Facility in Columbia, MD. He was born November 25, 1926 in Illinois, a son of Albert and Ida (Houseman) Burkhardt. Walter grew up in Highwood, IL where he graduated from high school.  He went onto school further to become an electrical draftsman at a large company in Chicago.
In 1961, he met Virginia Mae Campbell at a dance and they were married later that year. They spent the next 53 years together until her death in 2015.   Their two sons, Walter and Robert, were born while they lived in Chicago.  They lived for several years on the north side of Chicago in Evanston and Deerfield. Sometime in 1969, the two of them visited a travel show where they saw an ad for some property for sale near Grand Lake, CO. (Several years later, they would buy some property and build a cabin there).   In 1970, the two of them moved to Arvada, CO.   Shortly after moving, Walter lost his job due to a layoff.  But this turned out to be good for him because he got a job working as a water meter reader for the City of Arvada.   That job was great for him since it got him outside and meeting with people.  He loved to meet new people.  After going into a room of people, within 30 minutes he would know everyone's name and place of birth.  Virginia and Walter bought and sold houses three times in Arvada finally ending up in a small house on the Lake Arbor Golf Couse.
Walter loved Virginia very much and often said how she was the only one for him.   They loved hiking in Rocky Mountain National park, fishing off the back of their Cabin, and golfing in Grand Lake and at their house in Arvada.   The two of them played golf until they were 85 years old.  They lived in Colorado until about 2013 when they moved to Ellicott City to be near their two sons.  After Virginia passed away, Walter continued to live by himself until about March 2017, when he moved to an Assisted Living place in Columbia, Maryland.
He was an avid Cubs baseball fan and managed to go out to a Cubs game in Washington in 2017 (Cubs won) with his son Robert.   He is survived by his two sons Walter and Robert, and his two granddaughters Andrea and Julie.   He was very much loved and we will all miss him.
Relatives and friends will be received Saturday, February 10 from 9 to 11am at Eley Funeral Home in Constantine, where services will follow at 11am. Pastor Maria Rutland of Salem Presbyterian Church will officiate. Interment will be in Constantine Cemetery.
Memorial contributions may be directed to the Denver Zoo at www.denverzoo.org or Dumb Friends League of Denver (takes care of abandoned pets) at www.ddfl.org. Online messages may be left for the family at www.eleyfuneralhomes.com.