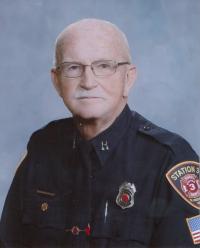 Wayne "Willy" Wilcox, age 79, of Three Rivers, passed away at his home surrounded by his loved one on Monday, Feb. 12, 2018. He was born in Three Rivers on Sept. 18, 1938, the son of the late Wayne and Thelma (Swartz) Wilcox.
Wayne graduated from South Bend Central Class of 1957 and then returned to make Three Rivers his home. Wayne would later retire from American Electric Power as a Meter Technician. Wayne was full of loyalty and dedication to his family, friends, and community. He had a selfless heart and loved to help those in need; he truly lived a life of service! He was a pillar of the Fabius-Park Fire department Station 3, where he served as Captain. Wayne was an active fireman at Station 3 for more than 50 years! He also served on the St. Joseph County Dive Rescue team and Mounted Division for more than 30 years! Throughout his career Wayne would receive many awards but none were more important to him then the respect and admiration of his fellow first responders. He was always willing to lend a helping hand, teach a "newcomer," and was a mentor to all. He was always available at a moment's notice. Wayne's legacy will forever be a part of Station 3!
When not responding to the call of duty, Wayne enjoyed being outdoors, hunting, riding ATVs and spending time with friends over morning coffee. Above all Wayne loved his family! He was as dedicated to them, as he was to our community and leaves behind many wonderful memories of a life well lived.
He is survived by three sons, Wayne (Heather), Douglas and Kenneth (Laurie) Wilcox; six grandchildren and six great-grandchildren and countless friends.
The family will receive friends on Friday, Feb. 16, 2018, from 2 to 4 p.m. and 6 to 8 p.m. at the Three Rivers Church of the Nazarene, 1221 Coon Hollow Rd, Three Rivers, MI 49093. A funeral service will be held on Saturday, Feb. 17, 2018, at the Three Rivers High School Auditorium beginning at 11 a.m.. Interment will be held at Lower Flatbush Cemetery. A celebration of his life will follow back at the Three Rivers High School Cafeteria. In lieu of flowers a memorial donation may be made to the Fabius Park Fire Association, c/o the funeral home. Online condolences may be left at www.hohnerfh.com.