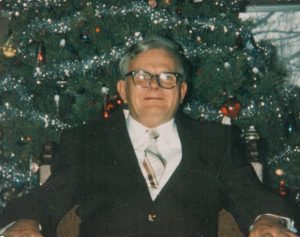 Ray Miles Stevens, age 87, of Nottawa, died on Monday, March 12, 2018 at Heartland Health Care Center in Three Rivers. Ray was born November 16, 1930 in Eckford Township, MI, a son of Roscoe C. and Bernice L. (Holt) Stevens. He attended the Arch Workshop for many years and enjoyed making crochet rugs, attending the St. Joseph County Fair, and the Battle Creek Balloon Festival. For many years he attended the Sturgis Nazarene Church. He spent the last 5 years living with George Wolfinger in Nottawa where he liked to play cards and dominoes, drive lawnmowers, sit on his rocking chair on the front porch, and take golf cart and buggy rides with his neighbors.
Surviving are his brothers Robert Stevens, Battle Creek, and Glen Stevens, Battle Creek, sister in law Josephine Wolfinger, Centreville, sister in law Myrna Stevens, Burlington, and many nieces and nephews.
He was preceded in death by his parents, brothers James and Charles Stevens, and sisters Marjorie Stevens and Arlene Wight.
Relatives and friends will be received Friday from 10 to 11am at Eley Funeral Home in Centreville. Religious services will be held at 11:00 with Pastor Clint Zehr officiating. Interment will be in Floral Lawn Memorial Gardens in Battle Creek at 1:00.
Online messages maybe left for the family at www.eleyfuneralhomes.com.