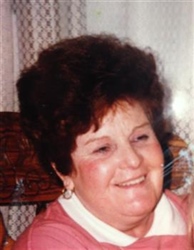 Audrey Phyllis Truckey, "Audie", age 78, of Mendon, passed away Saturday, March 17th, 2018, while having conversations with angels of those who preceded her. Audrey was born March 2, 1940, the daughter of John and Arbutus (Byron) Hoffman at War Memorial Hospital in Sault Ste. Marie. Growing up in "the Soo", Audrey attended St. Mary's Catholic Schools until moving to St. Joseph County in 1957, when she was the military bride of Jim Truckey, her former husband, who survives. Beginning married life in Leonidas, Audrey's work ethic and catholic faith sustained her with the day-to-day caring for seven children. During these years, Audrey worked at IGA Pizza of Mendon, and later at Research Molding. After the completion of construction of a new home they built, the family moved to a small farm west of Mendon to raise their family. It was at this time Audrey went to work for T & H Plastics of Mendon, where she worked for several years before seeking employment at Kirsch Company in Sturgis. Audrey worked at Kirsch Company for a decade prior to retirement. Audrey was a lifelong member of the Sault Ste. Marie Tribe of Chippewa Indians, a member of the National Rehabilitation of Animals-Humane Society, Fraternal Order of Eagles, and a longstanding member of St. Edwards Catholic Church in Mendon.
In addition to her children, grandchildren and great grandchildren, Audrey found great joy in loving and nurturing all animals. Lifelong lessons of generosity, strength, and kindness are remembered by her children, especially to dogs, preferably mutts. Many a pet phrase she would use including, "Help those who cannot help themselves," and "Do unto others as you would have them do unto you" were words she not only spoke, but lived in the treatment of those she cared about, always including her pets.
Audrey was proceeded in death by her son, James D. Truckey Jr., six brothers: Bernard Hoffman, Dutch Hoffman, John Hoffman, Charles Hoffman, George Hoffman, Herman Kempf Jr. and her parents, Arbutus and Herman Kempf Sr. Also proceeding Audrey in death were two sisters: Kathryn Struckman, and Sheila Wolfe, and a sister-in-law/best friend, Mary Hoffman.
Audrey is survived by brothers Joe Hoffman, Robert Hoffman, and Gary Kempf, three sons: Mike Truckey, Jerry Truckey, and Bill "Fonz" Truckey, three daughters: Deb (Barry Reber) Crouch, Kathy (Roger)Crosthwaite, and Marianne Truckey. She is also survived by several nieces and nephews and a dear cousin, Myrna Benson of Sault Ste. Marie.
Audrey especially loved her grandchildren and great-grandchildren—all who survive her including grandchildren: Dana Truckey, Jason (Lindsey) Truckey, Luke (Aubrey) Crosthwaite, Travis Crosthwaite, Joshua (Jenn) Crouch, Hannah (Kyle) Goldberg, and Courtney (Jimmy) Ruh
Audrey was affectionately known as GG to great-children: Kyron Truckey, Calvin Crouch, Kasen Truckey, Cameron Crouch, and Emersyn Ruh.
As per her wishes, a cremation has taken place and a Native American ceremony will follow next summer. The family will receive friends from 12:00 noon until the time of Catholic Scripture Services beginning at 1:30 p.m. on Saturday, March 24, 2018 at the Hohner Funeral Home with Deacon David Guido officiating.
In lieu of flowers donations may be directed to the St. Joseph Animal Rescue Fund (A.R.F.). Envelopes available at the funeral home. Online condolences may be left at www.hohnerfh.com.