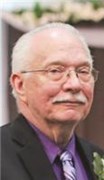 William R. (Bill) Carter, age 77, of Colon, passed away Saturday, March 10, 2018, at his home after a short illness.
Bill was born May 31, 1940, in Ann Arbor, a son to late Charles and Vivian (Walker) Carter.
Bill grew up in the Plymouth area graduating from Plymouth High School with the Class of 1958. He later lived in Sherwood and has made his home in Colon the past 31 years.
On Oct. 18, 1986, he married Gula (Taylor) Higgins in Colon.
Bill had worked 35 years for Sturgis Tool and Die as a tool and die maker, retiring in 2004.
Bill was an active member of the Colon Baptist Church and enjoyed golfing and bowling.
He is survived by his wife Gula Carter of Colon; two daughters, Vivian (Rick) Hulsey of Burlington, Dianna (Terry) Blowers of Sneads Ferry NC; step-son Gregory (Lori) Higgins of Mendon; two step-daughters, Zona (Ron) Amstutz of Phoenix, Ariz. and Ursula (Peter) Hubley of Kazanluk, Bulgaria; 17 grandchildren; 12 great-grandchildren; brother, Charles (Doris) Carter of Boonville, Ind.; sister, Barbara (James) Burgett of Powell, Tenn.; step-mother Imogene Sullivan of Waldo, Fla.; two step-sisters, Ardith (Gary) Hoath of Union City and Susan (Stanley) Foron of Gainesville, Fla.; step-brother, George (Peggy) Robinson of Jacksonville, Fla.;, and several nieces and nephews.
Besides his parents he was preceded in death by a brother Nelson Carter; and sister Carolyn Carter.
The family will receive relatives and friends on Wednesday from 2 to 4 p.m. and 6 to 8 p.m. at the Schipper Funeral Home LTD. in Colon. Funeral services celebrating the life of William R. (Bill) Carter will be Thursday, March 15, 2018 at 11 a.m. at the Colon Baptist Church with Pastor Scott Kroger, Rev. David Farrell and Rev. Larry Hubley officiating. Burial will follow at Lakeside Cemetery in Colon.
If desired the family suggest memorials be made in memory of Bill to either the Colon Baptist Church or Hospice Care of Southwest Michigan. Envelopes will be available at the funeral home.