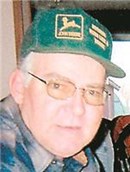 Brian Lynn Whitcomb, age 59, of Sturgis, passed away Wednesday, March 7, 2018, at his home.
He was born May 29, 1958, in Sturgis, a son of Harvey and Beverly (Pierson) Whitcomb.
Brian was a lifelong Sturgis resident and a graduate of Sturgis High School with the class of 1977. He furthered his education at Ivy Tech Community College in Fort Wayne, where he studied auto body repair.
Most of Brian's working life was in the auto body repair business. He had been employed by Frohriep Body Shop in Sturgis for 15 years and also worked at Red Shed Body Shop in White Pigeon and Suits Body Shop in Sturgis.
Brian was a member of Northeastern Steam and Gas Association in LaGrange, Ind., and Boot Hill Tractor Club. He enjoyed farming and restoring antique tractors and automobiles.
Brian is survived by two daughters, Amanda Carroll of Fort Wayne, and Kimberly Gibson of Kendallville; a son, Jeremy (Nicole) Whitcomb of Sturgis; seven grandchildren, Ashley Carroll, Jason Carroll, Latesa Trigs, Abagail Whitcomb, Tanner Whitcomb, Madison Gibson and Skyler Fuller; his parents, Harvey and Beverly Whitcomb of Sturgis; a sister, Lynette (Jim) Taulbee of Stanton; two brothers, Vaughn (Karen) Whitcomb and Myron (Joanne) Whitcomb of Sturgis; and several nieces and nephews.
He was preceded in death by his grandparents; and a nephew, Corey Whitcomb.
The family will receive friends from 2-6 p.m. Sunday at Rosenberg Chapel of Hackman Family Funeral Homes, 807 E. Chicago Road, Sturgis. Funeral services celebrating the life of Brian L. Whitcomb will be held at 1 p.m. Monday at the funeral home. The Rev. Rodger Moyer of Sturgis Evangelical Church will officiate. A graveside committal will follow the service at Oak Lawn Cemetery in Sturgis.
The family suggests those wishing to make a memorial donation in Brian's memory consider American Diabetes Association , 2451 Crystal Drive, Suite 900, Arlington, VA 22202.
His obituary is also at www.hackmanfamilyfuneralhomes.com, where personal messages of support may be left for the family.