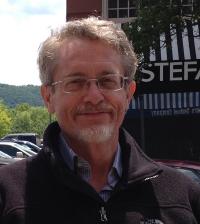 Brice Emanuel, age 65, of Salem, VA passed away Wednesday, March 21, 2018. He was the husband of Julia Bailey Emanuel.
Mr. Emanuel was born February 7, 1953 in Pittsburgh, PA a son of the late Noel Emanuel and Edna Douds Emanuel. He earned a Bachelor's Degree from Penn State University Class of 1976. Mr. Emanuel was retired from a 40 year career in the YMCA as a Resident Camp Director in camps around the country. He was also the Director of Camping Services for the Michiana Family YMCA, South Bend, IN from 1992-2013. He currently worked part time as a Swim Instructor at the Salem YMCA. Brice loved working with children and was a popular instructor and he also loved gardening, traveling, camping and blue grass music. He was also the Past President and Paul Harris Fellow of the Rotary International of Three Rivers, and volunteered as a VA Master Naturalist and VA Master Gardener. Brice believed that a life not spent helping and serving others was a life wasted.
In addition to his parents, Mr. Emanuel was preceded in death by his much loved cat, Camille.
Surviving are his wife Julia Bailey Emanuel of Salem; sons, Noel Emanuel of Chicago, IL, and Morgan Emanuel of Richmond, VA; brothers, Gareth Emanuel and wife, Cassie of Seattle, WA, Keith Emanuel and wife, Linda of Pittsburgh, PA, Noel Emanuel and wife, Felicia, of Pittsburg, PA, Kevin Emanuel and wife, Cathy of Apple Valley, CA, Gawain Emanuel of Pittsburgh, PA; sister, Gail Portelli and husband, Alex of Nebo, NC; and several nieces and nephews.
A private memorial service will be conducted at a later date.
Memorial tributes may take the form of contributions to the Brice Emanuel Scholarship Fund of Camp Eberhart Alumni Association, 316 S. Eddy Street, South Bend, IN 46617.
Online condolences may be expressed at www.johnmoakey.com.