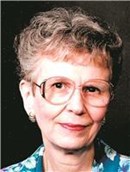 Carol Ann Rose, age 76, of Sturgis, passed away Monday, March 12, 2018 at her home.
She was born Aug. 22, 1941, in Sidney, Ohio, a daughter of the late Glenn and Ruby (Smith) Burch.
Carol had been a resident of Sturgis since 1978, moving here from Sidney, Ohio, and previously lived in Jackson Center, Ohio.
On Aug. 26, 1961, in Jackson Center, she married Roderic Louis Rose. He preceded her in death Sept. 25, 2010.
Carol was a homemaker who enjoyed music, taught piano lessons for many years both in Sturgis and Ohio, and loved raising her girls and being with family. She was a member of Pleiades Chapter #298 Order of Eastern Star in Sidney.
Surviving are two daughters, Amy (Robert) Anderson of Grandville and Julie (Jonathan) Beal of Colon; six grandchildren, Jeffrey, Matthew and Nicklas Anderson, and Allysha, Rachael and Kaylie Beal; and a brother, Roger (Maggie) Burch of Sidney, Ohio.
She was preceded in death by her parents; her husband; and two infant brothers.
The family will receive friends and relatives from 11 a.m.-1 p.m. Friday, March 16, 2018, at Eichholtz, Daring & Sanford Funeral Home, 214 W. Pike St., Jackson Center, Ohio.
Services celebrating the life of Carol Ann Rose will be held at 1 p.m. Friday, immediately following visitation, at the funeral home. Interment and graveside services will follow in Glen Cemetery in Port Jefferson, Ohio.
The family suggests memorial donations in her memory be directed to American Heart Association . Local arrangements are being handled by Hackman Family Funeral Homes in Sturgis.
Her obituary is also at www.hackmanfamilyfuneralhome.com, where personal messages of support may be left for the family.