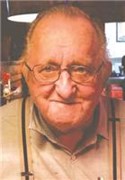 Chester R. (Doc) Pyne, age 78, of White Pigeon, died Sunday, March 25, 2018, at Borgess Medical Center in Kalamazoo.
He was born Jan. 31, 1940, in Flint, a son of Manley and Francis (Verdier) Pyne.
He was a graduate of LeRoy High School and served in the U.S. Army from 1958-1964 and moved to White Pigeon in 1988.
He was employed as a machine operator for Burr Oak Tool and Guage for 16 years, retiring in May 2005. He was owner and operator of Doc Pyne Shoe Repair in White Pigeon for many years. He attended St. Joseph Catholic Church, was a member of Neuman-Wenzel Post #73 of American Legion of Sturgis and enjoyed telling stories, helping others and, most of all, time with his family.
On Aug. 22, 1987, he married Barbara R. Hartwick in LeRoy. She died May 19, 2010. He is survived by his children, Robert Pyne of White Pigeon, Mark (Andrea) Pyne of LeRoy, Ray (Jessica) Hartwick of Constantine, Carolyn (Ken) Bonzo of St. Louis; eight grandchildren; half-sisters Linda Edstrom of LeRoy and Linda Wilson of Napoleon; and several nieces and nephews. He was preceded in death by his parents; his wife; two sisters, Darlene Ruppert and Joyce Baker; half-sisters Joanne Gugle and Susan Peller; and a half-brother, Fred Pyne.
Relatives and friends may call from 11 a.m. to 1 p.m. Saturday at Farrand Funeral Home in White Pigeon. Services will be at 1 p.m. Saturday at the funeral home, with Pastor Barry Edds of Church of Christ officiating.
Donations may be directed to American Legion Post #73 in Sturgis.