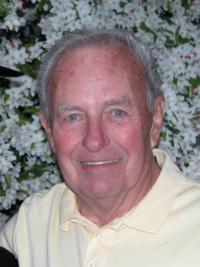 Clarence J. Nowakowski, age 90, of Schoolcraft and formerly of Portage, passed away at home on Sunday, March 18, 2018, with family at his side.
Clarence was born in Chicago, Ill., on Jan. 8, 1928, the son of the late Joseph and Jennie (Novak) Nowakowski. He enlisted in the Navy and served our country with honor. After being discharged he would make Southwest Michigan his home. Clarence was a hard and dedicated worker. He began his career at National Water Lift in Kalamazoo, and later retired as head of the Research and Development from Armstrong International of Three Rivers.
When not working he enjoyed spending time outdoors, riding his bicycle, and going out to breakfast with family. Clarence loved spending time with his family and friends and was always willing and ready to help those in need. His gentle smile and kindness will be missed by all those who loved him. On Feb. 3, 1951, he married Alvina "Ronnie" (Megyesi) Nowakowski who preceded him in passing on Sept. 2, 2000.
He was also preceded in passing by two brothers, Norbert Nowakowski and Larry Biniecki. He is survived by three children, Margaret (Joseph) Beck, Norma Bell-Vicari, Kenneth (Jody) Nowakowski; five grandchildren, Bret (Ashley) Willis, Tamara (Don) Trudeau, Timothy Bell, Shane (Donna) Bell, James II (Maureen) Bell; several great-grandchildren; other relatives and friends.
The family will receive friends at the Joldersma & Klein Funeral Home on Wednesday, March 21, 2018, from 6 to 8 p.m. A funeral service will be held at the funeral home on Thursday, March 22, 2018, beginning at 11 a.m., with Rev. Fred Betcher officiating. Interment will be at Mt. Ever-Rest Memorial Park. Memorial contributions may be made to the charity of one's choice, c/o the funeral home. Family and friends may share a condolence message online at www.joldersma-klein.com.