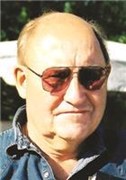 David John Pueschel, age 77, of Sturgis, passed away Monday evening, March 5, 2018, at Thurston Woods Village in Sturgis.
He was born Aug. 3, 1940, in Sturgis, a son of the late Ernest and Margaret (Schroeder) Pueschel.
David was a lifelong Sturgis resident and a graduate of Sturgis High School with the class of 1958.
On July 21, 1979, he married Jane Barnell in Sturgis.
Along with family, David owned and operated Fairgrove Farms until 2002 and established Deer Creek Farms in 2002, both in Sturgis and was a salesman for Pioneer Hi-Bred for 24 years.
David was always active in his community. Some of his many involvements included serving as a county commissioner representing St. Joseph County 6th District for two terms. While serving as a commissioner, he had been appointed to the Community Mental Health Board and numerous other boards. He was an active member of Radiant Life Church in Sturgis, where he was a past board member. He also served on the boards of Society Bank and Youth for Christ and was currently president of Thurston Woods Resident Association and was named Citizen of the Year in 2010. David had a true love and passion for farming. It was not just a job, but also his hobby.
He is survived by his loving and dedicated wife of 38 years, Jane; a daughter, Kimberly (Dan) Ditto of Kalamazoo; a son, David T. Pueschel of Sturgis; three stepsons, Jeffery (Jill) Stevens of Sturgis, Kurt (Cathy) Stevens of Coopersville and Gregg Stevens of Sturgis; 14 grandchildren, Holly Carmichael, Katelyn Pueschel, Michaela Pueschel, Darek Ditto, Brooke Ditto, Jake Stevens, Jaegon Stevens, Becca Stevens, Andy Stevens, Denver Stevens, Mason Stevens, Josh Northrop, Kelly Northrop and Calec Northrop; three sisters, Marilyn (Larry) Kelly of Sturgis, Linda (Dan) Samrau of Warren and Karen (Bruce) Kane of Shipshewana, Ind.; a brother, John (Rebecca) Pueschel of Sturgis; extended family, David (Laurie) Northrop of Sturgis and Jack (Ashley) Barnell of Bristol, Ind.; and many nieces and nephews.
The family will receive friends from 2 to 4 p.m. and 6 to 8 p.m. Friday, March 16, at Radiant Life Church, 907 N. Nottawa St., Sturgis. Funeral services celebrating the life of David J. Pueschel will be held at 10:30 a.m. Saturday, March 17, at the church. Pastors Ryan Bibb and Kurt Stevens will officiate. A graveside committal will follow the service at Oak Lawn Cemetery in Sturgis. Funeral services are being delayed, to allow family time for travel.
The Hackman Chapel of Hackman Family Funeral Homes, 114 S. Nottawa St., Sturgis, is entrusted with the arrangements.
In lieu of flowers, David's wishes were that memorial donations in his memory be directed to Radiant Life Expansion Project, 907 N. Nottawa St., Sturgis, MI 49091.
His obituary is also at www.hackmanfamilyfuneralhomes.com, where personal messages of support may be left for the family.